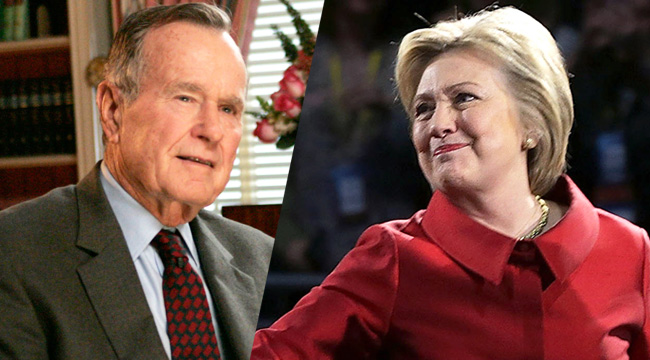 In what will certainly be a painful bit of news for Donald Trump, Politico is reporting that former President George H. W. Bush will vote for Hillary Clinton. According to Politico, they received the inside word from Kathleen Hartington Kennedy Townsend after spotting a social media post (that reportedly read, "The President told me he's voting for Hillary!!") and then followed up in a phone interview. Kennedy acknowledged her claim as true and said she met with Bush in Maine on Monday, where he mentioned voting for Clinton: "That's what he said." Politico duly followed up with Bush's spokesperson, who played coy:
Asked about Townsend's post, George H.W. Bush spokesman Jim McGrath in an email replied, "The vote President Bush will cast as a private citizen in some 50 days will be just that: a private vote cast in some 50 days. He is not commenting on the presidential race in the interim."
If this story is true, then George H. W. Bush may stand in solidarity with his most downtrodden son, Jeb Bush, who ended up being the Trump whipping boy for much of primary season. Jeb has declined to endorse Trump and earned the ire of GOP Chair Reince Priebus in the process. He hasn't endorsed Hillary yet, nor has he said that he'd vote for her, but now that Dad is officially voting against Trump, Jeb may not be too far behind. And what of George W. Bush? We'll see what happens next.
Politico notes that the first Bush president hoped to keep things quiet, but Kennedy must have felt differently. Josh Barro of Business Insider floats the theory that the Bush family has kept their preferences under wraps to insulate the career of George P. Bush, the eldest son of Jeb Bush and the current Commissioner of the Texas General Land Office. George P. Bush took office in 2015 and will serve a four-year term before coming up for reelection, but in the great, largely conservative state of Texas, having a grandfather who decides to cross party lines (as a former president, no less) could be awkward.
(Via Politico)