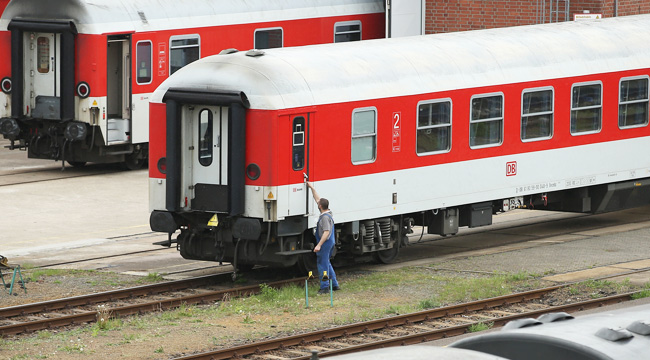 This story arrives with few details so far, but the BBC relays a horrific scene from a train in Germany. An ax-wielding man has reportedly attacked multiple people. Authorities believe some of the victims are suffering from life-threatening injuries. (Update: Three people were seriously injured while fourteen others sustained minor injuries or shock.) All accounts so far come by way of translation, but the attacker allegedly went on a rampage, and some outlets say the man is still at large while others claim he's been shot. The Daily Mail sources eyewitnesses that claim the assailant tried to flee but was killed by a marksman, but the paper doesn't have police confirmation.
Investigators are on the scene with a helicopter to assist victims. The attack reportedly took place in Wurzburg-Heidingsfeld in southern Germany while the train was still in the station area. The affected train line remains closed until further notice. So far, there are no clues coming about a possible motive or if the man was acting alone. Tensions remain high throughout Europe — and the world for that matter — after numerous, high-casualty attacks on civilians. The latest high-profile incident happened last week in Nice, France when a man slammed a truck into a crowd at a Bastille Day celebration.
UPDATE #1: Fox News reports that the man was a 17-year-old Afghan refugee and that he indeed was shot and killed by authorities.
We will continue to update this story if additional details appear.
(Via BBC, The Mirror, Daily Mail & Fox News)