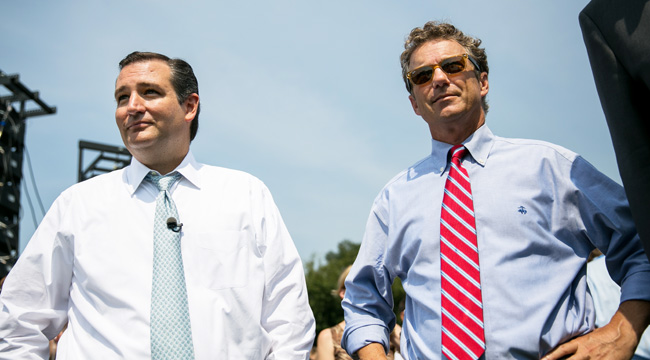 Senate Republicans finally dropped the shroud of secrecy around their healthcare bill that is intended to replace the Affordable Care Act, and it's been chaos on Capitol Hill ever since. Protests have broken out, pundits are poring over the 142-page draft, and now four powerful GOP senators have publicly stated they reject the measure as written. Ted Cruz, Ron Johnson, Mike Lee, and Rand Paul released a joint statement saying there is more work to be done on the Better Care Reconciliation Act:
"For a variety of reasons, we are not ready to vote for this bill, but we are open to negotiation and obtaining more information before it is brought to the floor. There are provisions in this draft that represent an improvement to our current healthcare system but it does not appear this draft as written will accomplish the most important promise that we made to Americans: to repeal Obamacare and lower their healthcare costs."
The four senators weren't the only ones dismayed at the changes included in the so-called Trumpcare plan. When it was revealed that the bill included severe cuts to Medicare and Medicaid, ADAPT disability activists arrived at Senate Majority Leader Mitch McConnell's office to protest. The police responded forcefully and video taken by NBC showed police grabbing disabled people from their wheelchairs and hauling them outside. Daily Beast reports that the situation escalated to the point that "paramedics arrived around noon, and custodians were on staff cleaning blood off of the floor."
Another vocal critic was Senate Minority Leader Chuck Schumer who declared, "this is a bill that would end Medicaid as we know it." He noted that the Senate's draft is even more severe in some areas than the one drafted by the House. That version was also met with controversy and criticism from both Democrats, Republicans, and the public, and failed to pass. The majority of Americans are distressed by the Trump administration's approach to healthcare, according to recent polls, and Trump's approval ratings have sunk the more his administration pushes Obamacare reform.
The aura of secrecy the Senate had around their version of the bill caused a great deal of concern about what they were trying to conceal. Republican senator Pete King said Wednesday, "It looks like they're trying to hide something and it does add to conspiracy theories and everything else. I think there should be more public debate on it." From the response the bill is getting, it seems the bill is getting public debate whether it's wanted or not, and the Senate was right in its assumption the bill couldn't squeak through without a little hocus pocus.