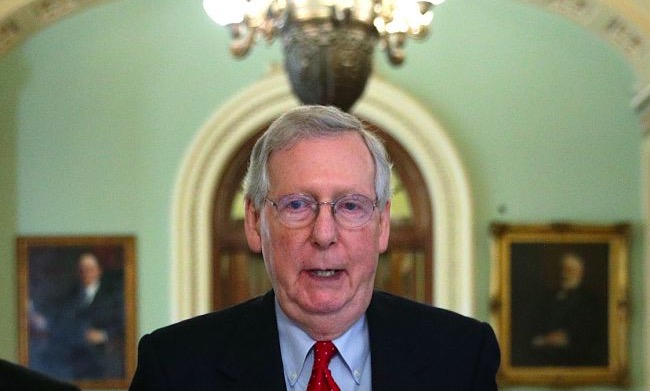 Despite the fact that no one could read it, the Senate passed the most massive tax rewrite in decades early Saturday morning. "We think this is a great day for the country," Senate Majority Leader Mitch McConnell said after the 51-to-49 vote (Senator Bob Corker from Tennessee was the only Republican to vote against the bill). Changes were being made to the controversial bill, which benefits the rich and expands the federal deficit, until hours before the vote.
The bill passing is President Trump's first major legislative victory since taking office. "For the first time since 1986," Speaker of the House Paul Ryan said, "both the House and the Senate have passed a major overhaul of our nation's tax code. Now we will move quickly to a conference committee so we can get a final bill to President Trump's desk." Senator Chuck Schumer (D-NY) warned that the bill would "stuff even more money into the pockets of the wealthy and the biggest corporations while raising taxes on millions in the middle class":
Republicans have pitched the bill as a middle-class tax cut and the overhaul is intended to immediately cut taxes for about 70 percent of middle-class families. But it would raise them on millions of others since the Senate plan eliminates some tax breaks like the deduction for state and local income taxes and phases out the individual tax cuts at the end of 2025.

Businesses fare far better, with the corporate tax rate cut to 20 percent from 35 percent and made permanent. It also offers a large tax break for the owners of small businesses and other companies that are not organized as traditional corporations, a provision that was sweetened in a last-minute deal to bring two wavering senators on board. Democrats opposed the tax bill as a bloc, saying it was meant to help the wealthy and not the middle class.
Trump tweeted his approval for the bill passing, writing, "We are one step closer to delivering MASSIVE tax cuts for working families across America. Special thanks to [Mitch McConnell] and [Orrin Hatch] for shepherding our bill through the Senate. Look forward to signing a final bill before Christmas!"
(Via New York Times)