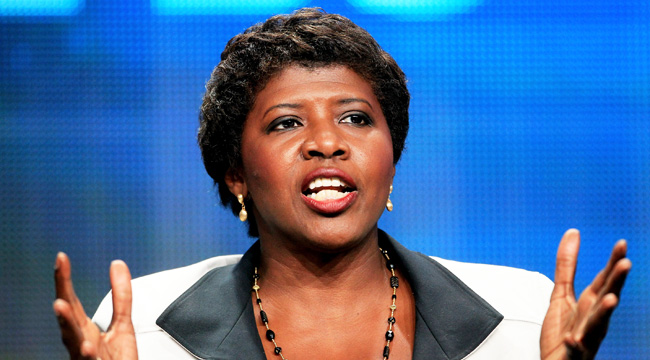 Gwen Ifill, the veteran journalist and anchor who moderated both Washington Week and two vice-presidential debates, has passed away at age 61. Her career — which took her from Baltimore to Boston and then Washington, D.C. — began in the early 1980s, and she blazed a trail not only for female journalists but also within the National Association of Black Journalists Hall Of Fame. She wrote for the The Washington Post and The New York Times, and she was a familiar face not only at PBS but also NBC News. In 2013, Ifill became co-host (along with Judy Woodruff) of PBS NewsHour.
For nearly a year, Ifill battled cancer. News of her death brought great outpourings of respect from Ifill's colleagues and those that knew her best. A PBS statement mourned and celebrated her as "one of America's leading lights in journalism" who sought "to bring light rather than heat to issues of importance to our society." PBS NewsHour executive producer Sara Just described her as "a standard bearer for courage, fairness and integrity in an industry going through seismic change." Just spoke to Ifill's "combination of warmth and authority" that prompted an audience to feel an innate connection, which Just says qualified Ifill as "a journalist's journalist."
Politico relays a statement from D.C. PBS member station president Sharon percy Rockefeller, who broke the sad news to station staff:
"I am very sad to tell you that our dear friend and beloved colleague Gwen Ifill passed away today in hospice care in Washington. I spent an hour with her this morning and she was resting comfortably, surrounded by loving family and friends … Earlier today, I conveyed to Gwen the devoted love and affection of all of us at WETA/NewsHour. Let us hold Gwen and her family even closer now in our hearts and prayers."
On Monday afternoon, NBC's Pete Williams choked up while reporting on the death of his former colleague and good friend. He then gathered himself and remarked, "Gwen would want me to get this together." Williams remarked that Ifill's office was so full of journalism awards that she could barely see out the window. Watch the broadcast below.
NBC's Pete Williams reports on the death of friend and colleague Gwen Ifill pic.twitter.com/oMTyLiMX4w

— Bradd Jaffy (@BraddJaffy) November 14, 2016