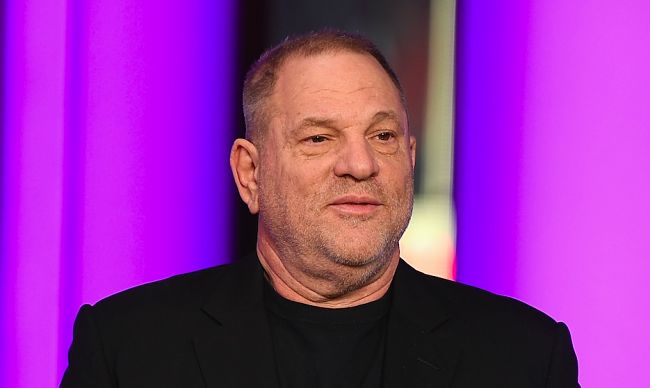 As expected, Harvey Weinstein, who has been accused of sexual misconduct by dozens of women, surrendered to authorities in New York City on Friday. The disgraced Oscar-winning producer is expected to be charged with "sexually assaulting two women: former actress Lucia Evans, and another alleged victim who has not yet been identified," according to Variety.
Weinstein's bond has been set at $10 million. He must wear a GPS device and had to surrender his passport.
Manhattan prosecutors will charge Weinstein with first- and third-degree rape in one case and a first-degree sex act in a second case, a source said. He's expected to appear in court later in the day… Weinstein is also under investigation for alleged sex crimes in Los Angeles and London. Federal prosecutors in New York have started a sex crimes investigation involving him. (Via)
Evans told the New Yorker that Weinstein forced her to perform oral sex on him during an audition in 2004. "I said, over and over, 'I don't want to do this, stop, don't.' I tried to get away, but maybe I didn't try hard enough," she said. "I didn't want to kick him or fight him… I just sort of gave up. That's the most horrible part of it, and that's why he's been able to do this for so long to so many women: people give up, and then they feel like it's their fault."
With this development, the "horrible ass boil that will not go away" took one step closer to going away for good.
UPDATE #1: NBC News has provided video of Weinstein's arrival this morning.
UPDATE #2: The Associated Press reports that Weinstein emerged "smiling" (and in cuffs) while being transported from the police station to court.
UPDATE #3 Weinstein has been formally charged. Via the New York Times: "Joan Illuzzi, the lead prosecutor on the case, read the charges against him: first-degree rape and third-degree rape in one case, and first-degree criminal sex act in another.: