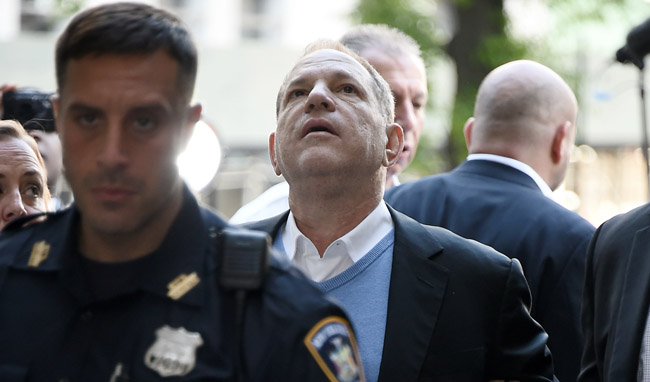 While Harvey Weinstein already surrendered himself to police, did his perp walk, and was arraigned in front of a judge in New York, a Grand Jury in the city has now indicted the disgraced mogul for the charges against him. The indictment (which you can read here) formally charges Weinstein with "rape in the first and third degrees, and criminal sexual act in the first degree" according to Deadline, and mirror the charges he faced during his court appearance last week.
Deadline adds that District Attorney Cyrus Vance had been criticized for moving slowly on some of the information given to the NYPD, including a reported groping claim against Weinstein in 2015. But the Grand Jury has "quietly been sitting for several weeks and issuing subpoenas" according to Deadline, and the indictment stands another avenue to hold the mogul accountable for the charges:
"This indictment brings the defendant another step closer to accountability for the crimes of violence with which he is now charged," Vance said of the latest legal move against the producer. "Our office will try this case not in the press, but in the courtroom where it belongs. The defendant's recent assault on the integrity of the survivors and the legal process is predictable. We are confident that when the jury hears the evidence, it will reject these attacks out of hand."
Weinstein's attorney Benjamin Brafman held steadfast to his client's innocence and wasn't surprised by the indictment, adding that he saw it happening earlier on Wednesday. Brafman said that he had asked for more time for Weinstein and his team to prepare for a potential Grand Jury testimony, but he still intends to plead not guilty according to CNN:
"We remind everyone that an indictment is merely a formal accusation," Brafman said.

Weinstein intends to "vigorously defend against these unsupported allegations that he strongly denies. We will soon formally move to dismiss the indictment and if this case actually proceeds to trial, we expect Mr. Weinstein to be acquitted," Brafman said in the statement.
Weinstein was released from custody on a $10 million bond and was forced to surrender his passport as a flight risk. The former Weinstein Company head also was forced to wear a GPS monitor to ensure he did not leave the New York or Connecticut area. D.A. Vance also indicated that the investigation into Weinstein's alleged crimes remains open.
(Via CNN / Deadline / NY Daily News)