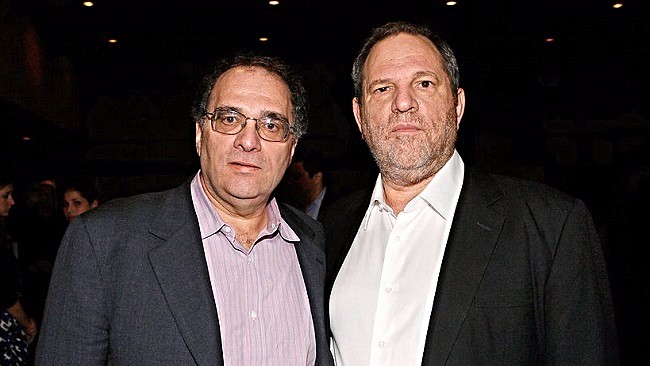 Expect to hear more accusations against Harvey Weinstein in the coming days, because The Weinstein Company just dissolved all of their non-disclosure agreements as part of their bankruptcy proceedings. In a statement released late Monday, members of the board — including Harvey's brother Bob Weinstein — said the end of all confidentiality agreements is "an important step toward justice for any victims who have been silenced by Harvey Weinstein."
Dissolution of the non-disclosure agreements — including ones signed by current and former Weinstein Company employees — had been requested by New York Attorney General Eric T. Schneiderman, who is suing Harvey Weinstein and the company for allegedly violating the state's anti-discrimination laws. Harvey Weinstein is also being sued by twelve other plaintiffs in the U.S., Canada, and England, including a lawsuit filed against him by his own insurance company.
The Weinstein Company — which previously tried to sell off the company but came up short — filed for Chapter 11 protection in Delaware on Monday, and they are entering a "stalking horse" agreement to sell the company's assets (including Project Runway and over 700 Miramax movies) to Dallas-based Lantern Capital Partners. A stalking horse agreement places a lower limit on the price of the assets, preventing low-ball bids from other potential buyers.
Variety reports Lantern's bid is somewhere between $300 million and $450 million, significantly less than a previous $500 million bid which fell through when bidders discovered the company had an extra $56 million in debt on top of the $225 million in debt they knew about. There may not be much left to divvy up among plaintiffs after the sale, but at least they're more likely to get money from the sale than Harvey is. Equity holders — including Harvey and Bob Weinstein — are not expected to get back any money they currently have invested in the company.
Here is The Weinstein Company's full statement:
Today, the Company also takes an important step toward justice for any victims who have been silenced by Harvey Weinstein. Since October, it has been reported that Harvey Weinstein used non-disclosure agreements as a secret weapon to silence his accusers. Effective immediately, those "agreements" end. The Company expressly releases any confidentiality provision to the extent it has prevented individuals who suffered or witnessed any form of sexual misconduct by Harvey Weinstein from telling their stories. No one should be afraid to speak out or coerced to stay quiet. The Company thanks the courageous individuals who have already come forward. Your voices have inspired a movement for change across the country and around the world.
Schneiderman also released a statement late Monday:
This is a watershed moment for efforts to address the corrosive effects of sexual misconduct in the workplace. The Weinstein Company's agreement to release victims of and witnesses to sexual misconduct from non-disclosure agreements — which my office has sought throughout this investigation and litigation — will finally enable voices that have for too long been muzzled to be heard.

My office will continue to fight for victims' best interests throughout the bankruptcy proceedings, and engage with all parties, including The Weinstein Company and Lantern, in an ongoing effort to advance the principles we set forward when we filed our complaint: ensuring that victims are compensated, employees are protected moving forward, and perpetrators and enablers of abuse are not unjustly enriched. We welcome the parties' efforts to preserve jobs and pursue justice for victims.
Our lawsuit against The Weinstein Company, Bob Weinstein, and Harvey Weinstein remains active and our investigation is ongoing.
Coincidentally (or not coincidentally), the Weinstein Company announced the dissolution of their non-disclosure agreements on Monday, March 19th, which was also Harvey Weinstein's 66th birthday. Happy freakin' birthday, Harv.