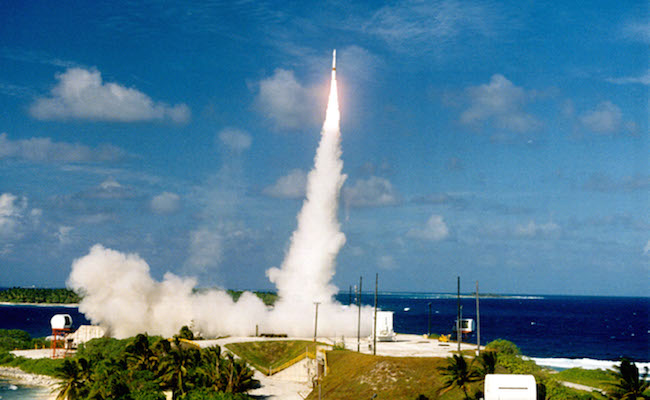 The threat of global catastrophe was felt in an all too real fashion on Saturday in Hawaii. Residents in the state received a frightening message warning to take shelter immediately due to an inbound missile threat.
"BALLISTIC MISSILE THREAT INBOUND TO HAWAII. SEEK IMMEDIATE SHELTER. THIS IS NOT A DRILL," screamed an alert that popped up on phones and local television broadcasts.
The inbound threat was determined by officials to be false and the emergency messages a mistake. Hawaii Rep. Tulsi Gabbard confirmed the error on Twitter.
Gabbard also addressed the matter on MSNBC, emphasizing the fear felt in Hawaii and the real human stakes at play.
Gabbard directed serious criticism at President Donald Trump's response to this terrifying situation. Namely, his lack of response.
"Our leaders have failed us," she told MSNBC. "Donald Trump is taking too long. He's not taking this threat seriously … This is literally life and death that is at stake."
According to press reports, Trump was golfing and later en route to Mar-a-Lago during this time of crisis.
"USPACOM has detected no ballistic missile threat to Hawaii. Earlier message was sent in error. State of Hawaii will send out a correction message as soon as possible," said U.S. Pacific Command spokesperson Cdr. Dave Benham of the alert.
Gov. David Ige attributed the alert to an emergency personnel pressing "the wrong button."
"This should not have happened. We are investigating the sequence of events that occurred. An error was made in emergency management which allowed this false alarm to be sent," he said. "It was a procedure that occurs at the change of shift where they go through to make sure that the system is working and an employee pushed the wrong button."
With the current state of nuclear war posturing of the current administration and Hawaii's history being indelibly marked by the Pearl Harbor attack, this brand of false alarm is downright traumatizing. Senator Brian Schatz took to Twitter to call for accountability and slammed the error as "totally inexcusable"
The Honolulu Star-Advertiser reports that officials mistakenly sent the message out by text at 08:07 local time and did not send a message correcting their error until about 20 minutes later.
Meanwhile, Hawaii residents took to social media to express horror and relief over the whole thing. Gizmodo editor and The Wirecutter founder Brian Lam noted that his girlfriend was in tears while he did some reporting on the incident.
Hawaii-based comedy writer Sarah Beattie offered some humor but noted that she and others in her neighborhood were confused and terrified by the false alarm.
And the video below shows children being placed inside of storm drains in response to the alert being issued.
2018!
(Via The Honolulu Star-Advertiser, Buzzfeed & NBC News)