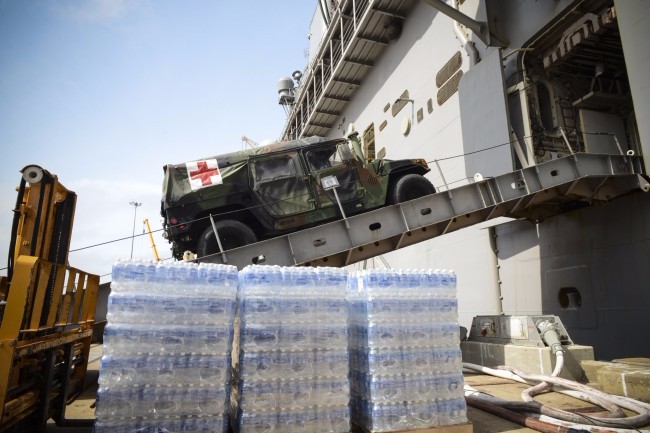 Hurricane Matthew, the deadly storm that made its way through the Caribbean last week before reaching the U.S. East Coast, has left nothing but death and devastation in its wake. In Haiti alone, well over 800 people were reported dead after the category 4 hurricane struck, prompting President Obama to declare a federal state of emergency. On Saturday, Matthew made landfall in South Carolina, where it caused severe flooding, albeit being downgraded to category 1. On Sunday morning, the storm was downgraded to a tropical cyclone, after it pulled away from North Carolina, which saw close to 900 flood rescues. Recovery will take months.
As always, the best way you can help the affected areas is by monetary donation, which is the most flexible resource organizations can ask for. Here are several ways you can make immediate monetary donations to hurricane relief:
St. Boniface Haiti Foundation: SBHF operates a full-service hospital in southern Haiti. They are on the ground and have rapid response teams standing by to treat the injured and sick. Donate here.
Medecins Sans Frontieres (Doctors Without Borders): MSF currently has 26 staff members deployed in assessment teams in Haiti. More teams are currently en route. To help MSF treat patients for cholera and other ailments, click here.

Direct Relief: To help Direct Relief provide emergency medical assistance, click here. Direct Relief has also "made available its entire inventory of medicines and supplies – valued at nearly $100 million – to help people affected by Hurricane Matthew."
ShelterBox: Donate here to send more supplies to the ShelterBox team, which is already on the ground in Haiti. Donations will help provide tools, mosquito nets, ropes, tents, and more to the region.
The Salvation Army: Send money to the Salvation Army's international arm to help provide food, shelter, and other forms of emergency assistance to disaster survivors and rescue workers. You can also call 1-800-Sal-Army or text STORM to 51555.
The American Red Cross: Click here to support the Red Cross' effort in the Caribbean to deliver much-needed humanitarian supplies, relief, and care. You can also text REDCROSS to 90999 to make a $10 donation.
United Way Worldwide: Along with the 211 Network — a free, confidential, 24-hour phone service that connects people from all communities to essential health and human services — United Way will be helping to provide local information about evacuation routes, shelters, food and water, health resources, and other needs throughout the storm. Donate here.
World Vision: Donate here to help World Vision provide clean water, blankets, hygiene kits, and other essentials to families in Haiti. A donation of $16 will provide a personal hygiene kit, which includes shampoo, soap, deodorant, a toothbrush and more, while $50 will help children and families. An amount of $126 will feed a family.
UNICEF: The United Nation's Children's fund are accepting donations for disaster relief in Haiti here. 90 percent of all donations to UNICEF go directly to children.
Food for the Poor: Donate here to help Food for the Poor ship rice, canned meats, rice-based nutritional meals known as MannaPack, first aid kits, and blankets to the worst-hit areas of Haiti. Thirty ship containers of such food items are expected to ship out to Haiti within the next two weeks.
The Humane Society: Help animals affected by Hurricane Matthew by contributing to the Humane Society's relief fund.
(Via AccuWeather, TIME, Weather.com & CNN)