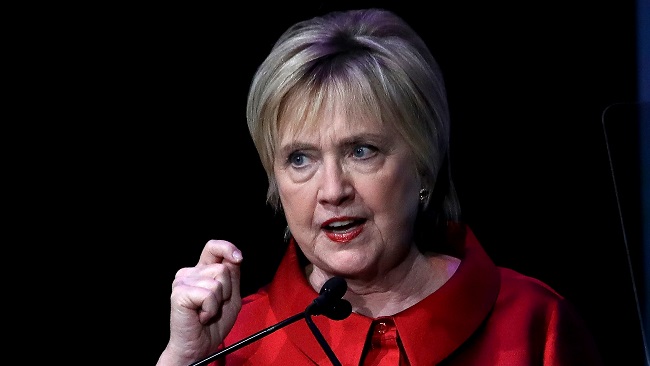 While Steven Bannon's guidance steers Donald Trump toward the likely scapegoat(s) for the American Health Care Act's failure on Friday, former Democratic presidential candidate Hillary Clinton came out of the digital woods to comment on House GOP leaders' decision to cancel the vote. Calling the bill's temporary demise "a victory for all Americans," Clinton used the moment to bolster Obamacare's strengths, the Democratic Party, and selected stories meant to convince constituents Trumpcare wouldn't have been a great replacement. She also issued a warning.
"Today was a victory for the 24,000,000 people at risk of losing their health insurance," read a prepared statement shared on Twitter. "Most of all, it's a victory for anyone who believes affordable health care is a human right. We cannot forget: This victory happened because people in every corner of our country committed their time and energy to calling their representatives, showing up at town hall meetings, and making their voices heard."
In addition, Clinton shared several photos and brief stories from persons affected directly by the Affordable Care Act as-is — and whose coverage would be lost in House Republicans' proposed legislation. Everything from breast cancer caught via a screening service offered by Planned Parenthood, to those suffering — directly and otherwise — from the country's mounting opioid crisis. Even so, as Clinton noted in her statement, "The fight isn't over yet." Hence why the former Secretary of State concluded Friday's Trumpcare tweets with a warning: "Let's not be distracted."
Seeing as how we were all watching videos of Nerf darts breaking the sound barrier earlier, avoiding distractions right now is harder than it looks.
(Via Business Insider)