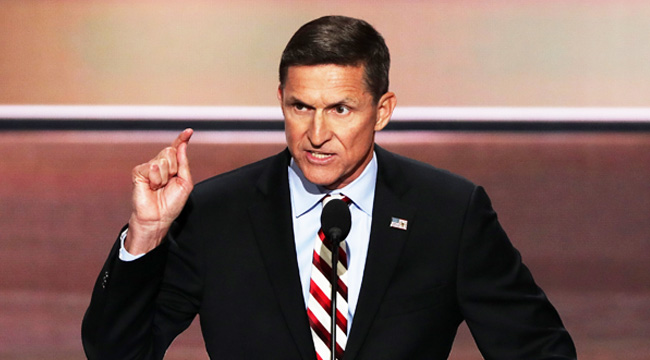 The House Intelligence Committee doled out subpoenas today like candy, although the recipients won't find 'em so sweet. NBC News is reporting that a total of seven subpoenas — four on Russian interference in the election and three about unmasking — landed on their respective targets. CNN says that two of the Russia-involved goodies landed on former National Security Advisor Michael Flynn and Trump's personal attorney, Michael Cohen.
Flynn, who has already committed to invoking the Fifth Amendment for any testimony in the Senate, will likely resist the House subpoena as well. Out of all of the Trump associates who are firmly entrenched in the Russia scandal, his situation appears to be the worst, at least by judging publicly available information. He lied to the FBI and Mike Pence about his conversations (partially about sanctions) with the Russian ambassador, and he lobbied for Turkey during the election. His ousting arrived amid concerns that he was vulnerable to Russian blackmail, and he is inextricably connected to Cohen, who reportedly attempted to broker a pro-Russia peace deal (to end the war in the Ukraine) through Flynn.
The House will now compel testimony from two Michaels along with relevant documents, according to CNN:
"As part of our ongoing investigation into Russian active measures during the 2016 campaign, today we approved subpoenas for several individuals for testimony, personal documents and business records," Reps. Michael Conaway, R-Texas, and Adam Schiff, D-California — the co-leaders of the House investigation — said Wednesday in a statement.
Although Flynn's status as a focus of the Russia probe has been known for months, Cohen was only formally named on Tuesday even though reports have circulated since February about him passing a secret proposal on lifting Russian sanctions to Flynn. Regardless of the timing, Cohen has expressed an intent to resist cooperating with investigators, and since he's exhibited foot-stomping behavior on cable news, there's no telling how he'll react while delivering testimony. Oh boy.