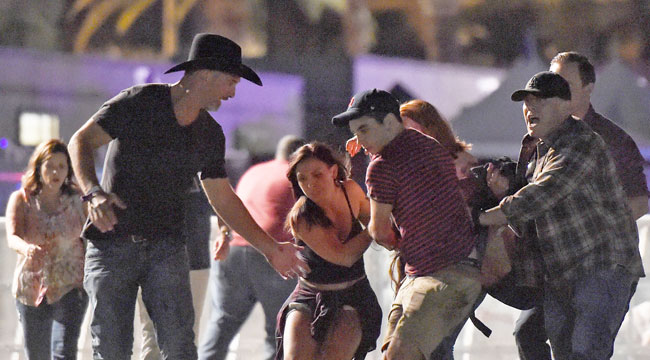 After Sunday night's mass shooting that left at least 58 dead and over 500 people injured at a country music festival in Las Vegas, people are asking how they can help in the wake of such a tragedy. While many on social media and in D.C. are discussing gun control, the victims in Las Vegas are already hurt and need help now in the form of donated blood and money. Here's how you can have the most impact for this cause.
American Red Cross: The Las Vegas chapter of the American Red Cross takes both money and blood donations. The organization already had pre-planned blood drives scheduled for today, and you can click here for a map and locations of all their scheduled blood drives for this week. Non-resident donors can call 702-369-3674 or donate via mail at 1771 East Flamingo Road, #206B, Las Vegas, Nevada, 89119.
United Blood Services: There are several blood banks in and around Las Vegas that have been accepting donations all morning. Nevada Congressman Ruben J. Kihuen is one of many on Twitter to share this image.
One location saw people lining up hours after the shooting before the center even opened.
Even with those long lines, these organizations will need more blood in the coming days and weeks to replace what they had on hand.
National Compassion Fund: As an organization dedicated to giving money directly to victims of mass tragedies, the National Compassion Fund pledges transparency in how it distributes funds and has previously partnered with the victims of 9/11 and the Sandy Hook shooting.
Go Fund Me: Crowdfunding campaigns have sprouted up since the shooting and claim to be raising funds for victims. However, scams on the internet abound, so be extremely careful if you choose to donate in this fashion.
Contact The Police: Law enforcement agencies working on this investigation are likely being overwhelmed by the number of phone calls. If you are still trying to get in contact with a loved one who may have been caught in the chaos, the Las Vegas Police Department has a dedicated number for concerned people to call.
Don't Spread Misinformation: After incidents like these, sometimes all a person can do is read their Twitter timeline. However, during these events, it's easy to fall for fake reports. Luckily, several organizations have created guidelines for how to use social media during breaking news situations.