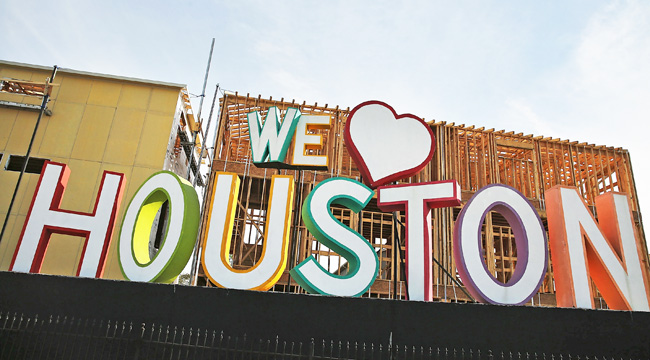 Houston has a serious math problem on its hands — namely, how to rebuild hundreds of thousands of homes, offices, businesses, roads, and other infrastructure without the help of undocumented immigrants. Not to mention how a population of 575,000 undocumented immigrants (roughly the size of Milwaukee, WI) is going to bounce back from Harvey if they are disqualified from a huge volume of available construction work (or are afraid of running into ICE at construction work sites). Also, it's going to be very hard for Houston to recover without turning to its undocumented workforce.
Though counts vary, somewhere between 25-50% of all the construction laborers in Houston are undocumented, which means that a city facing an unprecedented volume of construction work is trying to get it done with just a fraction of the available laborers. And while not every job required for Houston's recovery is federally funded, construction companies are have already started to struggle with finding workers they can actually hire.
New Orleans went through the same thing after Hurricane Katrina, and the solution was to simply relax ID laws. George W. Bush created a 45 day grace period during which nearly anyone could be hired with few questions asked. But Bush didn't have the aggressive immigration agenda that the Trump administration is pursuing, and he didn't repeal a law protecting some 800,000 children of undocumented workers just weeks after a natural disaster hit a city with the second-largest number of DACA-protected Dreamers in the country.
Precedent and president aside, there are some who see potential here to rebuild a stronger, fairer Houston. Stan Marek, who heads a Houston construction company, weighed in. "With some supervision and some training, we could kick-start this whole thing to basically integrate these people into society," he said. "Let's take them out of the shadows and give them the protection of our laws."
Marek's optimistic strategy might not make much of an impact on a post-DACA White House, but he's not alone in his willingness to reframe the conversation. As Houstonian and Nicaraguan immigrant Roberto Benavidez put it, "I get it. It seems like we are busting in the door of your house and asking to stay. But in reality, we are knocking on the door and offering a service."
(Via Washington Post & MySanAntonio)