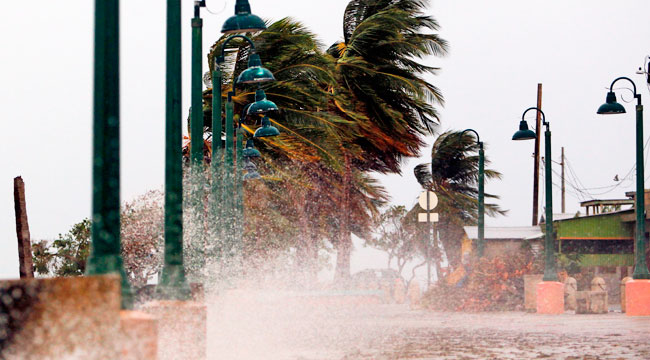 The vocabulary usually used to describe hurricanes suddenly seems inadequate in the face of Hurricane Maria, which battered the Virgin Islands early Wednesday and is continuing to pummel the Caribbean. Nonetheless, officials can only describe this storm's effects on Puerto Rico as "total devastation."
The U.S. Virgin Island of St. Croix was one of the first hit on Tuesday night, with winds at 175 miles an hour. Next, Maria killed 7 in Dominica as a Category 5 storm before making landfall across Puerto Rico. When Maria struck Puerto Rico with winds of 155 mph, it was the strongest storm the island had seen in 85 years. To make matters worse, Maria is for the most part following Hurricane Irma's devastating path, striking vulnerable islands that already saw widespread destruction just two weeks ago.
From the footage coming out of Puerto Rico and surrounding islands, Hurricane Maria is truly unprecedented in terms of the devastation after a catastrophic start to hurricane season. Much as Vermont learned during Hurricane Sandy, heavy rains and high winds in mountainous regions can lead to deadly deluges. Simply by looking at the video and still footage coming out of the disaster zone, one can see why Puerto Rico Commissioner Hector Pesquera warned, "You have to evacuate. Otherwise, you're going to die."
Puerto Rico Gov. Ricardo Rossello has already requested that President Trump declare the island an official disaster zone. Rossello tweeted a call for faith and resilience: "We are stronger than any hurricane. Together, we will rebuild."
Because the island was already hit by Hurricane Irma, shelters and other emergency infrastructure were already in tough shape. 100% of the island is without power. At the very least, many buildings lost their roofs and others were destroyed completely. Maria is currently on course to strike the Dominican Republic Thursday, then the Turks and Caicos Friday. It's too soon to tell if the storm will maintain its present strength as a Category 4 storm or if it will turn towards the mainland of the United States.
(Via CBS, CNN & New York Times)