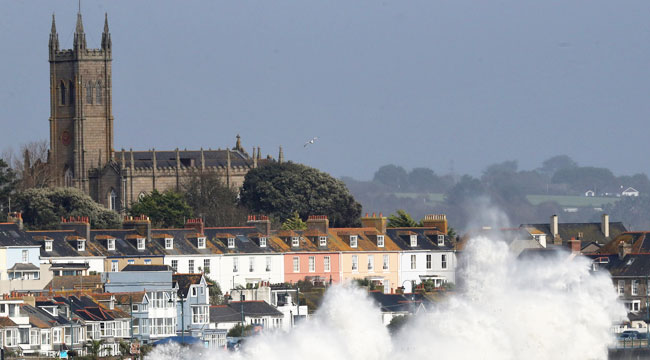 In this photo, waves crash along the Penzance seafront in Cornwall, England on Monday as the remnants of Hurricane Ophelia batter Ireland and parts of England as projected. The storm's arrival in Cornwall also marks the 30th anniversary of the area's Great Storm (that killed 18 people), which couldn't be more ominous. Although a survey of the #Ophelia tag reveals a stiff upper lip and whiskey jokes aplenty, along with a blood-red sun across England, the storm has already turned deadly in Ireland.
The BBC reports that two people have been killed thus far by the post-tropical cyclone. In the Republic of Ireland, a woman died after a tree crashed onto her vehicle; and in County Tipperary, one man lost his life in a chainsaw accident associated with another fallen tree. These deaths, which are directly attributed to Ophelia, arrive alongside at least 27 killed in Portugal by wildfires that are understood to have been fanned by Ophelia's winds.
Meanwhile, BBC meteorologist Chris Fawkes has labeled this as "one of the strongest storms you're going to see this year. The Journal.ie goes much further while calling this the strongest storm in 50 years to hit Ireland.
Currently, over 125,000 homes in Ireland have already lost power, and schools throughout Ireland, Wales, and parts of England remain closed for the storm. The Weather Channel is reporting that the storm carries sustained winds of 70+ mph with gusts up to 119 mph recorded in Ireland. As if to prove what Ophelia's brought to the table, an Irish Examiner reporter tweeted this footage of a roof flying off a community center in Cork, Ireland.
Ophelia's previous status as the 10th hurricane of the season also brought an unusual path, which made it the strongest hurricane ever recorded that far east in the Atlantic. When the storm arrived on Ireland's shores, the system had downgraded into a post-tropical cyclone, but cooler waters weakened the storm's eye and transferred that energy into a wider storm with damaging winds throughout the cyclone. As such, officials warned of danger from flying debris, and indeed, that remains a danger as Monday progresses.
(Via Weather.com & BBC)