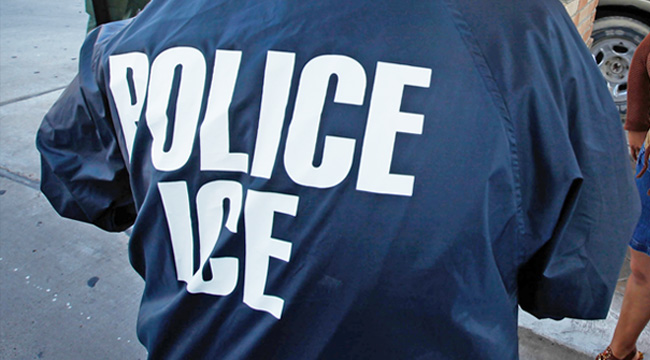 Donald Trump began his presidency with a huge push for deportation of undocumented immigrants. The first person to be removed from the country under Trump's new policies was a mother who lived in the U.S. for decades. Now, U.S. Immigration and Customs Enforcement (ICE) agents are conducting massive raids in many cities and going to great lengths to detain specific individuals. One particularly disturbing account comes from Austin, Texas.
Last week, ICE agents tracked down a domestic violence victim at the El Paso County Courthouse while she was obtaining a restraining order. Six agents arrested her after she appeared before the court. This not only seems cruel, but it could have a chilling effect for other undocumented immigrants in similar situations, who might decide that it's not worth risking deportation to seek help. Even worse, it appears that the agents were tipped off by the woman's alleged abuser. Here are more awful details:
The detention has alarmed county officials who fear that that the arrest will scare undocumented victims of domestic abuse into staying with their abusers for fear of being deported and separated from their children or other family members.

"Our clients come to us at the lowest point in their lives," said El Paso County Attorney Jo Anne Bernal, whose office represents domestic-abuse victims when they seek court orders against their abusers. "Many of them are so frightened of coming to us because of possible immigration concerns."
District Judge Yahara Lisa Gutierrez, who's in charge of issuing restraining orders in El Paso County, condemned the arrest:"This was a victim of horrible domestic violence." Indeed, this ICE move sends a terrible message to victims and underscores the fears presented by Trump's attack on sanctuary cities, which take care not to discourage undocumented immigrants who are victims of crimes from seeking the protection of the law.
Unfortunately, the immigration raids and waves of deportation show no signs of slowing, unlike Trump's immigration ban on refugees from seven Muslim-majority countries. For now, that ban is on hold with an appeals court blocking enforcement.
(Via El Paso Times)