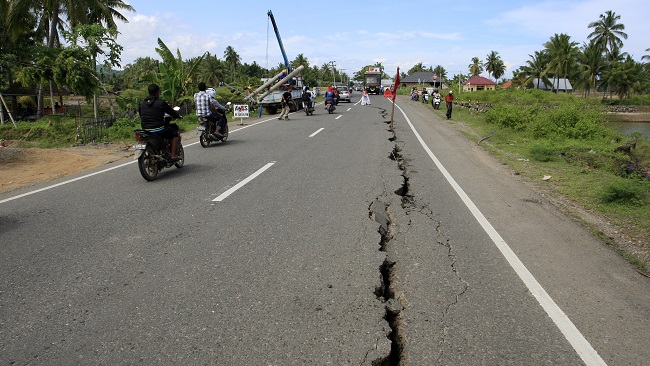 The Southeast Asian country of Indonesia was struck by a massive earthquake early Wednesday morning, resulting in the confirmed deaths of dozens — and possibly more. Preliminary reports by state, military and third-party officials have offered contradictory casualty numbers ranging from the lower dozens to just over 100 people, though the confirmed number is sure to rise while rescue efforts continue throughout the day.
According to the New York Times, the United States Geological Survey estimated the quake, which occurred on the island of Sumatra just after 5 a.m. local time, was a magnitude 6.5 on the Richter scale. Indonesia's own National Meteorology, Climatology and Geophysics Agency also noted the quake struck the Pidie Jaya Regency in the Aceh Special region at a depth of six miles.
Despite these facts, however, national and international news agencies faced a deluge of conflicting information regarding the damage and deaths incurred by the earthquake. Per a BBC News report, Aceh military chief Tatang Sulaiman told local television "97 people have been killed and the number keeps growing." NPR and many other outlets ran with Sulaiman and other Indonesian military and state personnel's similarly high numbers, suggesting the quake "[killed] nearly 100 people."
Yet as the NYT remarks, National Agency for Disaster Management spokesperson Sutopo Purwo Nugroho claimed 52 people were dead and 273 were injured — 73 of them critically so. Meanwhile, the National Search and Rescue Agency could only confirm 34 deaths at 3 p.m. local time. "We are still searching for victims, for survivors. We still don't have an exact number," agency duty officer Connie Magdalena said, adding: "Our rescue teams in the field are also evacuating the injured."

If the Aceh region sounds familiar, that's because it faced the brunt of the 2004 Indian Ocean tsunami that killed 230,000 people in the transcontinental region. Of that total number, 170,000 were caught in Aceh when the tsunami struck.
UPDATE: Both the NYT and CNN are now confirming that "at least 97 people were killed" in Wednesday morning's earthquake in the Indonesian Aceh province.
(Via New York Times, BBC News and NPR)