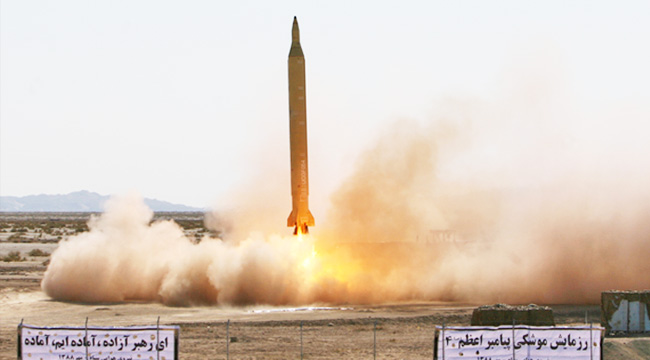 Iran has blown off the Trump administration as "inexperienced" and "provocative" after General Michael Flynn made his public debut as national security advisor. Flynn's appearance was a whammy, for he stormed right out of the gate and issued a stern warning to Iran. Flynn informed the country that they were "on notice" while slamming the Obama administration for being too soft. At issue was a weekend ballistic missile test that defied Iran's 2015 nuclear deal with other world powers.
FYI, Trump chimed in on Twitter this morning to repeat the "ON NOTICE" rhetoric. He also declared that Iran should be grateful for this "terrible deal" that didn't put America first.
After Flynn dropped his rebuke against Iran, The Guardian revealed how Secretary of Defense General James Mattis preemptively asked Flynn to "soften his language about Iran," so the statement was likely even harsher than what Flynn actually uttered. Well, Iran did not soften their responses, for Foreign Advisor Ali Akbar Velayati witnessed Flynn and the Trump White House's warning and scoffed:
"This is not the first time that an inexperienced person has threatened Iran. Iran is the strongest power in the region and has a lot of political, economic and military power … America should be careful about making empty threats to Iran … Iran will continue to test its capabilities in ballistic missiles and Iran will not ask any country for permission in defending itself."
In addition, Al Jazeera quotes Iranian Foreign Ministry Spokesman Bahram Ghasemi, who states that the White House is only helping to fuel terrorist recruitment with their rhetoric:
"Instead of thanking Iran for its continued fight against terrorism … the American government is practically helping the terrorists by claims about Iran that are baseless, repetitive and provocative."
Perhaps most troubling, beyond this war of words, is how Flynn issued this warning, yet U.S. Central Command added that Trump White House's position on Iran only exists on a policy level. That is, CENTCOM has "not been asked to change anything operationally in the region."
While General Flynn isn't exactly a spring chicken on military matters, it's clear that the Trump administration is chock full of business people and deal makers, who are not accustomed to navigating the nuances of foreign policy. Immediately busting heads may not be the wisest route to take.
(Via NBC News & Al Jazeera)