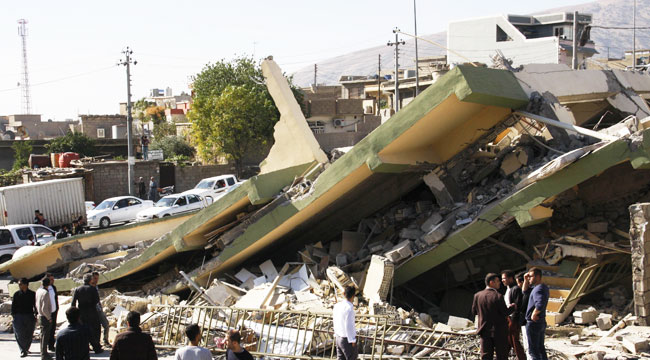 On Sunday, a powerful 7.3 magnitude earthquake struck northeastern Iraq with an epicenter located near the border city of Halabja. The quake sent shockwaves through the Iran-Iraq border region and was even felt in Pakistan and Turkey (with the latter country immediately deploying rescue operations crews to begin the search for survivors). The numbers pouring out after this disaster are grim — with Iran suffering the most fatalities, followed by Iraq and the Kurdistan Region — and CNN providing updates on those numbers. Thus far, at least 402 people have been killed (most of them in Iran with 7 confirmed in the Kurdish Region), and here are more details:
At least 402 people have died after the deadliest earthquake of 2017 struck the border region between Iraq and Iran late Sunday.

Iran's state-run media Press TV reported the sharp rise in the death toll Monday adding that 6,650 people were injured in the quake, which was felt as far away as Turkey and Pakistan. Some 145 aftershocks were reported, according to state-run network IRINN.
The greater death toll in Iran, which is located atop a number of major fault lines, is understood to be partially explained by the building materials (mainly mud bricks) used in the country's rural areas. NBC News relays one Iranian woman's impressions when the quake hit: "I was sitting with my kids having dinner and suddenly the building was just dancing in the air." She managed to escape the structure, but "immediately after I managed to get out, the building collapsed." The woman and her family are now only a few of 70,000 people who now need emergency shelter, according to the Iranian Red Crescent relief organization.
Obviously, a quake of this magnitude has caused unfathomable damage, but for now, the focus is not on assessing material matters but, instead, digging through the rubble for survivors. Further, much of the searching that has already taken place has been focused in urban areas, and the tolls of dead, injured, and missing are expected to further rise once rescue operations reach the most remote parts of the affected areas.
(Via CNN, The Independent & Iranian Red Crescent)