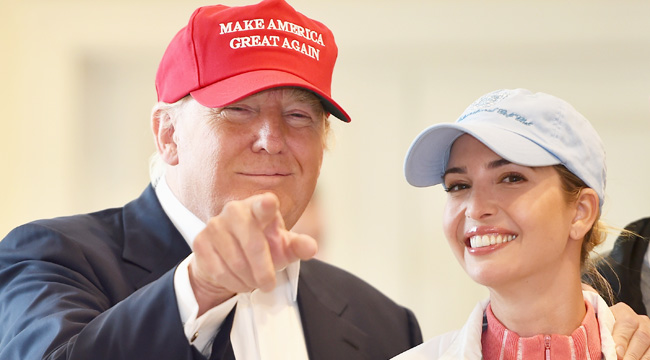 Donald Trump's controversial campaign manager, Corey Lewandowski, was fired on Monday as the Trump campaign hoped to shift strategy for the general election. Now it turns out that Trump himself may not have pushed for this personnel change. Rather, it was his adult children, specifically his daughter Ivanka, who were responsible for Lewandowski's ouster.
The Daily Intelligencer reports that according to an anonymous senior staffer, Lewandowski was fired in a "regular strategy meeting" between patriarch Donald, and his children (Ivanka, Eric, and Donald Jr.). Security ended up escorting Lewandowski out of that meeting, which was reportedly "the result of a coup led by Trump's children." Paul Manafort is now campaign manager.
That's not all, though. According to a tweet from CNN's Dana Bash, the ringleader in this decision was Ivanka Trump:
It doesn't seem surprising that Ivanka would be the one to push for this. She was the one who often had to defend her father against claims of sexism, and that probably was hard to do with a campaign manager who also apparently made inappropriate comments to female reporters, as Politico previously reported. And we haven't even gotten to that time that he allegedly assaulted former Breitbart reporter Michelle Fields.
Speaking of which, Fields has something to say about Lewandowski's firing:
(via Daily Intelligencer)