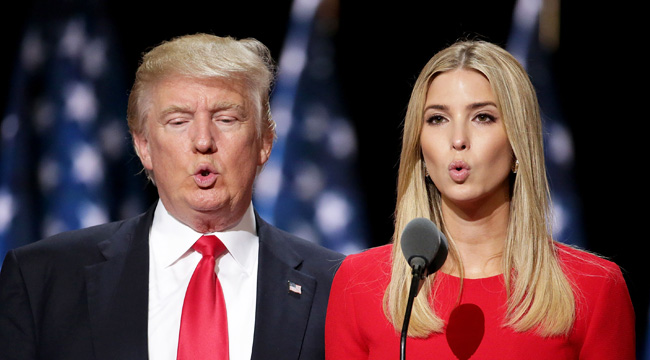 At the Republican National Convention this summer, Ivanka Trump made her position within her father's campaign clear. She delivered a rather Democratic-sounding speech that was geared towards convincing voters that the Trump campaign had women's issues in mind. Ivanka spoke of eliminating the gender wage gap, and she said her father would work to ensure that "When a woman becomes a mother, she is supported, not shut out." Shortly thereafter, Trump released his childcare policy, which was meant to woo women by guaranteeing tax breaks, childcare subsidies, and six weeks of guaranteed paid maternity leave.
Of course, the Trump campaign then had to deal with claims from their hotel workers, who revealed that not "all" Trump employees received paid maternity leave as Ivanka had claimed. Now, a former executive for Ivanka's clothing company, Marissa Velez Kraxberger (who was Ivanka's Chief Marketing and Creative Officer), reveals that she also struggled to take paid maternity leave from her position. Ivanka even hired her while she was pregnant but told Kraxberger that she would have to "think about" granting her maternity leave. Kraxberger reveals on Facebook that she felt "ill" at the Trump campaign's promises to women and wanted to speak out:
"When I first interviewed with Ivanka I was 2 months pregnant, she called to offer me a job, which I was at the time very excited about. And when I asked about maternity leave she said she would have to think about it, that at Trump they don't offer maternity leave and that she went back to work just a week after having her first child. I somehow was dumb enough to accept the job after agreeing upon having the discussion further down the road about how we would handle the time after my baby was born."
Kraxberger reveals how she and her colleagues all had to fight "long and hard" in order to secure eight weeks of paid leave. She explains that she doesn't think Ivanka's a bad person but that she's can't possibly realize what it's like for the average mother to pop back into work a week after having a child. One would presume that Ivanka has nannies at her disposal, and it's also her choice to dive right back into her profession. It's not reasonable to expect that from every new parent.
Kraxberger adds, "If you truly support parenting and children then you actually have to support it fully," so she doesn't understand how Ivanka can claim a comprehensive solution on the behalf of the Trump campaign while not guaranteeing the same for her own executives. Kraxberger also feels the Trump campaign should add paternity leave and cases of adopted children to their childcare policy.
UPDATE: A brand spokesperson for Ivanka Trump emailed Uproxx the following statement tonight in response to this story.
The team at Ivanka Trump is saddened by this mischaracterization of how our company developed its industry leading culture and benefits package. In addition to paid leave, we also offer all employees flexible work schedules and unlimited vacation and sick days.

As a company for women, run by women, we spent a considerable amount of time in the early days of building our business developing a unique corporate culture and engaged in meaningful dialogue about the benefits that would be most impactful to the people working at Ivanka Trump.

While we respect differing political views from employees, past and present, we are steadfast in our belief that we have built a culture and a brand to be proud of and are deeply committed to supporting and empowering women.