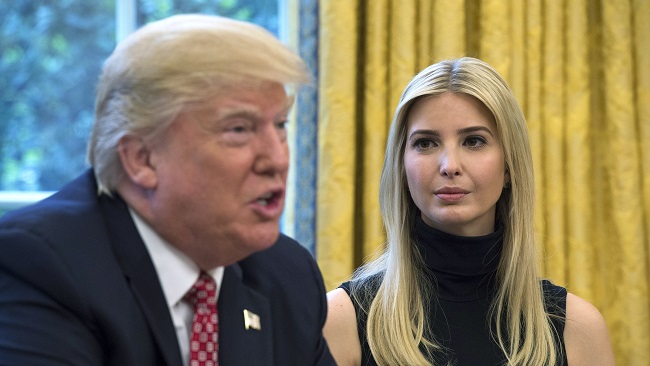 Despite John Oliver's assertion that the American public has seriously overestimated Ivanka Trump's influence over her father, no one can deny the fact that she does possess some influence. She is, after all, an unpaid federal employee in the president's administration and one of the biggest thorns in chief strategist Steve Bannon's side. Hence a New York Times story about Ivanka's supposed "West Wing agenda," which revealed startling details about one of Trump's darkest hours during the campaign.
According to the Times, when the Washington Post broke its story about the Republican nominee's sexist comments from unaired portions of an Access Hollywood interview, Trump initially "insisted that the description of his comments did not sound like him." While future chief of staff Reince Priebus allegedly told Trump to drop out, the candidate "agreed to say he was sorry if anyone was offended" with what Times reporters noted was a "grudging" demeanor. That's when Ivanka stepped up:
Ivanka Trump made an emphatic case for a full-throated apology, according to several people who were present for the crisis discussion that unfolded in Mr. Trump's 26th-floor office. Raised amid a swirl of tabloid headlines, she had spent her adult life branding herself as her father's poised, family-focused daughter. She marketed her clothing line with slogans about female empowerment and was finishing a book on the topic. As she spoke, Mr. Trump remained unyielding. His daughter's eyes welled with tears, her face reddened, and she hurried out in frustration.
At the time, Ivanka — who became the female face of her father's presidential campaign — responded to the controversy with a one-sentence statement to Fast Company. "My father's comments were clearly inappropriate and offensive," she said, "and I'm glad that he acknowledged this fact with an immediate apology to my family and the American people." As a result, she (and her father) were tarred and feathered by the media.
If the above story from the Times report on Ivanka's political ambitions is even remotely true, however, then it seems Trump's apology wasn't as "immediate" as we were led to believe.
(Via New York Times)