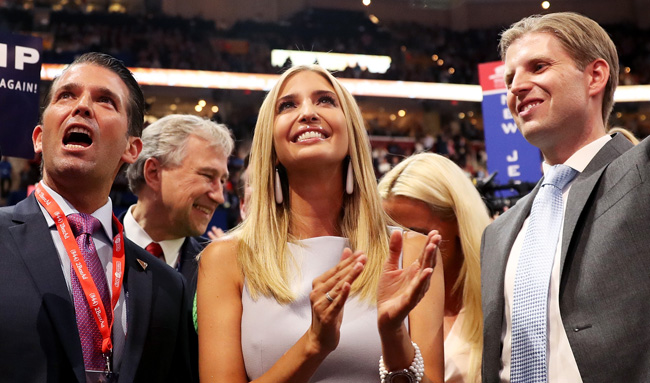 Ivanka Trump or whoever runs her Twitter account believed that now was the right time to tweet out an older blog post from her web site. The post, titled "How to Survive as an Unpaid Intern" and written by Trump intern Quincy Bulin, dives into the modern work experience for most people by running down a list of ways to make not receiving a paycheck work for you in today's fast-paced social world. It isn't groundbreaking stuff or even that outrageous, featuring tips like "take up a part-time job" and "socialize on the cheap," with quotes from some of the interns at Ivanka Trump HQ:
"By working on-campus jobs and doing freelance design work during the school year, I was able to put away enough money to be able to have some summer fun on the weekends," says MacKenzie Schroeder, our graphic design intern. Mackenzie Owens, our licensing intern, adopted the same philosophy with her job at a restaurant, where she works during the school year. "At the end of each night, I put half my tips in a clear jar so I could see my progress and motivate myself," she says.
All fine advice towards a very real situation for plenty of young people, but very odd considering the source it is coming from.
When Ivanka Trump is pushing out tweets with hashtags like #nomoneynoproblems in them, it's easy to see why it might ruffle a few people. As The Huffington Post points out, there are plenty of troubling details floating around Trump and the idea of unpaid interns:
Unpaid internships at for-profit companies are not legal in New York City, where Ivanka's workers are based ― unless the positions are for college credit. And even then, there are a host of restrictions around how the job is structured. Regulations regarding unpaid interns at nonprofit organizations are slightly less strict.

Ivanka Trump is certainly not the only employer to use unpaid interns. In an email, Chief Brand Officer Abigail Klem told The Huffington Post, "We strive to create a fulfilling learning opportunity tailored to the unique interests and career goals of each intern. It is our goal that at the end of the program, our interns leave with experiences that will help guide them into choosing a fulfilling career path."
It is also not the best of looks for Trump's support of women's equal rights according to The Huffington Post, pointing out how unpaid internships lead to lower paying jobs and a less diverse workplace. They also note that Trump likely did not send out the tweet herself since she's currently on vacation, but that didn't stop many online from commenting on it and it's use of imagery:
At the very base level, having someone with the name Trump anywhere near a statement on being able to live without a paycheck is absurdity. Even if Ivanka Trump's company rolled out the red carpet for its employees, paid and unpaid, nobody is going to want to hear a message like this coming from that camp.
(Via Mediaite / The Huffington Post / Ivanka Trump)