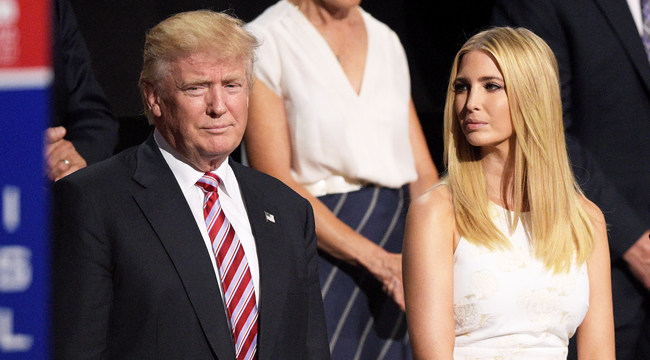 Donald Trump has dominated the media for the entirety of the year, and the aftereffects of the election on his brand are already surfacing before the election. The Trump Organization already not-so-quietly announced that new Trump Hotels will be branded under the "Scion" name. Soon enough, Ivanka Trump's clothing line — which is worth a reported $100 million — may be in need of a distancing from the family reputation too.
Yahoo Fashion reports how women have taken note of Ivanka's steadfast supports of Donald despite his continued alienation of women voters. And they're organizing a boycott against her fashion line, along with any stores that stock it. Prominent fashion strategist Shannon Coulter, who has previously touted Ivanka's strength as an entrepreneur, publicly called for women to stop buying Ivanka's collection.
Coulter also launched the #GrabYourWallet hashtag as a direct retort to Trump's 2005 "grab them by the p*ssy" hot-mic remarks.
Raw Story points out how Coulter's tweets have drawn about one million impressions on Twitter, which proves word is spreading. Meanwhile, The Guardian spoke with Coulter about how this is a response to Ivanka's willingness to look past Trump's sexist rhetoric. More specifically, Coulter is reacting to Trump's 2005 lewd commentary to Billy Bush. Coulter said, "It was a feeling of recoiling. It was emotional, visceral. Then I had a pounding headache for a few days. I was filled with nausea."
Ivanka has continued to defend her father despite condemning the Billy Bush conversation in specific. Otherwise, she has called her father a feminist and insisted that he's "not a groper." Ivanka's also worked hard to reel in women for Donald, beginning with a Democratic-sounding RNC speech and continuing with a proposed childcare policy. She urged her father to further a sweeping maternity-leave policy while being exposed for not doing the same for her own employees.
Coulter hits on that point — hypocrisy — while speaking to The Guardian. She can't fathom how Ivanka can look past all of the women who have accused Donald of gropey behavior. Coulter told her own story of sexual harassment, in which a boss "pressed himself right up against me" and commented on her looks. She says Trump's lewd 2005 commentary triggered the memory: "I recognized in his words the same feeling that I had that day — of being nothing more than an object. No matter how smart you are or how hard you work, they can do that to us." And Ivanka's support of her father's antics fly in the face of her insertion of women-friendly policies in his platform.
(Via Yahoo, Raw Story & The Guardian)