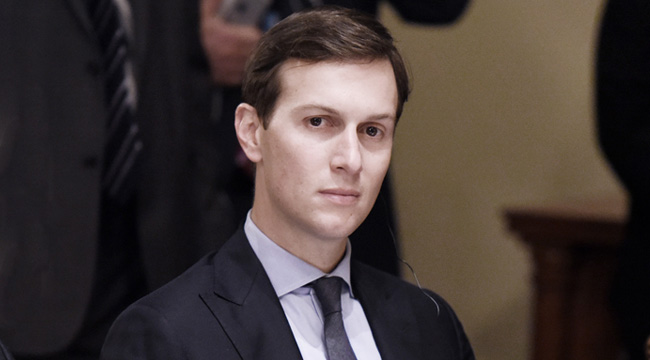 In the aftermath of National Security Advisor Michael Flynn's guilty plea of lying to the FBI about his communication with then-Russian ambassador Sergey Kislyak, reports began to fly about what this cooperation with the Justice Department would mean for Trump and his allies. ABC News reported that Flynn would testify that Trump (as president-elect) directed him to communicate with Russians. And CNN added that a "senior Trump transition official" pushed Flynn to talk with Kislyak about a delaying a vote on an impending U.N. Security Council resolution that heavily criticized Israel settlement policy.
Numerous outlets are now reporting that this senior transition official was Jared Kushner. First, Bloomberg reminds everyone that Flynn lied about talking to Kislyak about the U.N. resolution:
[O]ne of Flynn's lies to the FBI was when he said that he never asked Russia's ambassador to Washington, Sergey Kislyak, to delay the vote for the U.N. Security Council resolution. The indictment released today from the office of special prosecutor Robert Mueller describes this lie: "On or about December 22, 2016, Flynn did not ask the Russian Ambassador to delay the vote on or defeat a pending United Nations Security Council resolution."
Buzzfeed News, upon reviewing the court documents filed with Mueller's plea, spoke to a source who says that Kushner was the one to urge Flynn to call all members of the U.N. Security Council, including Kislyak:
The documents do not say on whose behalf Flynn contacted Sergey Kislyak, the Russian ambassador, identifying the person only as "a very senior member of the Presidential Transition Team."

But a Trump transition official who was in the room where Flynn took a call regarding the upcoming UN Security Council vote said Flynn identified the caller as Kushner. "Jared called Flynn and told him you need to get on the phone to every member of the Security Council and tell them to delay the vote," the person said.
Not only that, but Buzzfeed's source points out that Kushner stressed — while Flynn spoke with Kislyak — that "this was a top priority for the president." Meanwhile, Foreign Policy also nabbed a source who implicates Kushner:
"I think it was Jared [Kushner] … I heard that months ago," said one source close to the White House who had conferred with several others, referring to the Trump's son-in-law.
In other words, Flynn's guilty plea and apparent sweetheart deal could throw Trump's son-in-law under the bus, which is especially interesting considering that CNN reported on Thursday that Kushner recently spoke to Robert Mueller's team about Flynn. And all of this is happening after Kushner told the Senate that he did not collude with Russia ("all of my actions were proper") despite reportedly trying to set up a backchannel for Team Trump to communicate with Russian officials and updating his security form thrice because he failed to disclose over 100 foreign contacts.
Foreign Policy does note that Kushner was indeed "actively lobbying countries" (including the U.K.) over the U.N. resolution in question, and "those efforts failed." All of this lines up with the sources' claims that he told Flynn to get on the horn with Kislyak. What a disaster, right? It's almost as bad as the time that Kushner tried and failed to get a half-billion dollar bailout from Qatar.
UPDATE #1 – 4:20pm EST: NBC News reveals, in a tweet, that they've also spoken to sources who are fingering Kushner as the "very senior member of the presidential transition team" who pushed Flynn to call Kislyak.
UPDATE #2 – 4:50pm EST: CNN reports that the lobbying on Israeli settlements was "a well known and a collaborative effort by various transition officials" that included Reince Preibus and Steve Bannon as well as Kushner, according to a Trump transition team member. Further, the source adds that nobody "directed" Flynn do do anything: "[A]ll were working towards the same goal of standing by Israel, one of the country's greatest allies, as the President's very public comments at the time made clear."
(Via Foreign Policy, Bloomberg, NBC News, Buzzfeed & CNN)