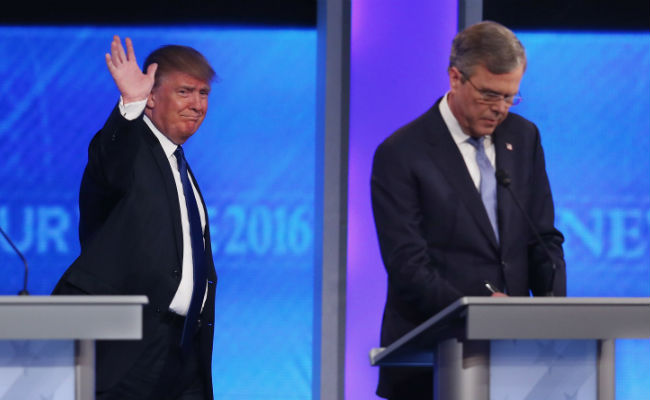 To say that the relationship between Republican front-runner Donald Trump and former candidate Jeb Bush has been one tinged with the utmost professionalism would be a load of utter garbage. Even after the New York real estate mogul won the South Carolina Republican Primary, which triggered the former Florida governor's self-removal from the race, Trump still felt the need to troll Bush with the fake JebBush.com website. It was truly a dick move, and may have been the final push Bush needed to do absolutely nothing to support the leading GOP candidate's chances at winning the nomination. Hence why he's visiting all the other candidates before the Florida Primary on March 15.
According to The New York Times, the bullied Bush has scheduled meetings with Texas Senator Ted Cruz, Florida Senator Marco Rubio and Ohio Governor John Kasich ahead of Thursday night's CNN Republican debate in Miami. An aid to the former candidate confirmed with the Times that all three meetings would be scattered across times on Wednesday and Thursday, but didn't say whether or not an official endorsement would result. Meanwhile, Trump's name was never mentioned by the paper's source as a potential fourth meeting for Bush. In fact, the missing name was a "glaring omission" that didn't at all surprise the Times.
A spokesperson for the Kasich campaign confirmed the meeting with CNN. However, the Cruz camp declined to comment on the purported meeting. Rubio's people didn't respond in time before the CNN story went online and to broadcast.
When the 24-hour cable news channel picked up the story during a panel discussing the upcoming Florida Primary, anchor Brooke Baldwin asked Trump surrogate Kayleigh McEnany whether or not Bush's apparent refusal to meet with Trump signaled "a big ol'… can I say this?… middle finger essentially to Mr. Trump?" True to form, McEnany said it was, and immediately transformed the supposed burn into a positive note for the Trump campaign.
(Via The New York Times & CNN)