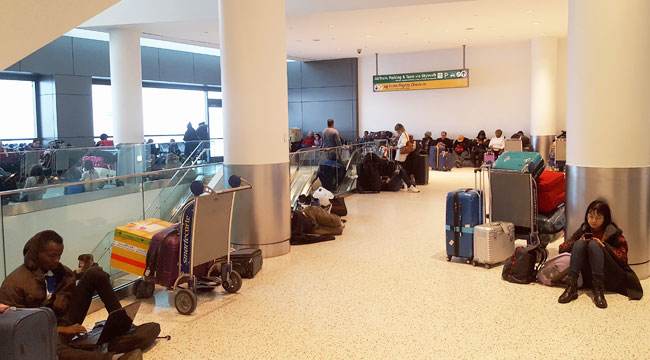 Winter Storm Grayson (a.k.a., last week's "bomb cyclone") finished its wind-fueled, massive snow dumping on the Northeast late Thursday, but the chaos is not over in New York City. JFK Airport shut down during the storm, stranding thousands of passengers, many of whom are still stuck and awaiting the chance to fly the heck out of dodge. The Port Authority of New York and New Jersey has tweeted several updates on the continuing problems caused by disabled equipment, which is producing ongoing delays and cancellations. And on Sunday, a water main break partially flooded terminal four — exacerbating already widespread misery within the airport
Even on Saturday, the Port Authority says that 94 more cancelled flights contributed to "a cascading series of issues." Indeed, some flights that were cancelled on January 5 still haven't been rescheduled, which has left some passengers stuck for days in the airport with little to no followup communication. This backlog has also resulted in the baggage claim area looking like hell.
To make matters worse, parts of baggage claim have flooded. Some of the affected areas also lost power and heat for part of Sunday, and these videos shows that some travelers will soon be even more miserable.
And people are, of course, still sleeping on terminal floors, which is a miserable experience even without flooding and everything else at hand.