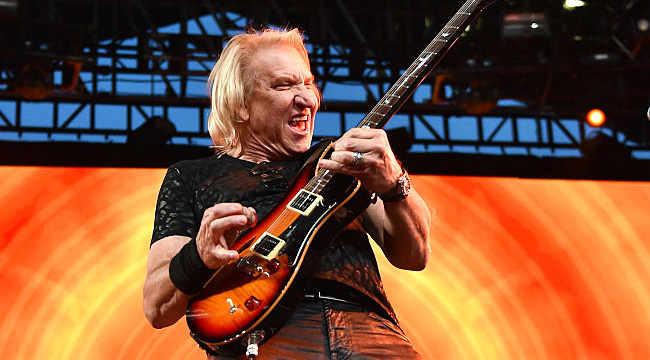 In June, the Republican convention in Cleveland could end in a GOP civil war or, at the very least, some temper tantrums after Speaker Paul Ryan rejected overtures to save the world from a Donald Trump nomination. There's every possibility that the party will suck it up and put on airs of gentility, and Trump seems poised to do so after a stunningly civilized New York victory speech. The real estate mogul has shifted tone, but the convention is still two months away, and anything could happen. He could turn brash and sassy again at the drop of a gold-plated hat.
One necessary convention element will be musical acts, and it's not a stretch to say that it's much easier to find artists willing to play for Democrats than Republicans. As of now, Dave Navarro, Mark McGrath, and country act Big & Rich are ready to roll, and in January, party operatives revealed that The Eagles' Joe Walsh was also booked. Unfortunately, no one told Walsh, who must not frequent the internet. He thought he was playing a non-partisan show for veterans and their families. Well, it's actually a convention launch with a fundraising component. As soon as Walsh found out he'd be shredding for conservatives, he pulled out with this statement:
"I am very concerned about the rampant vitriol, fear-mongering and bullying coming from the current Republican campaigns. It is both isolationist and spiteful. I cannot in good conscience endorse the Republican party in any way. I will look at doing a veteran related benefit concert later this year."
Walsh also apologized to the vets and loved ones that he may have upset, but he just couldn't go through with the gig. He joins a long line of musical acts (including Adele, R.E.M., Neil Young, Aerosmith, and Elton John) who have refused to let their music aid the Republican cause.
Just as a reminder, Joe Walsh once called himself the "Real Joe Walsh" when lobbying against then-Congressman Joe Walsh of Illinois. The Eagles shredder endorsed Democrat Tammy Duckworth, an Iraq War vet and double amputee, who defeated Fake Walsh in 2012. God only knows why anyone decided to book Real Walsh for this convention, but Ted Nugent is surely available as a pinch hitter.
(Via JoeWalsh.com)