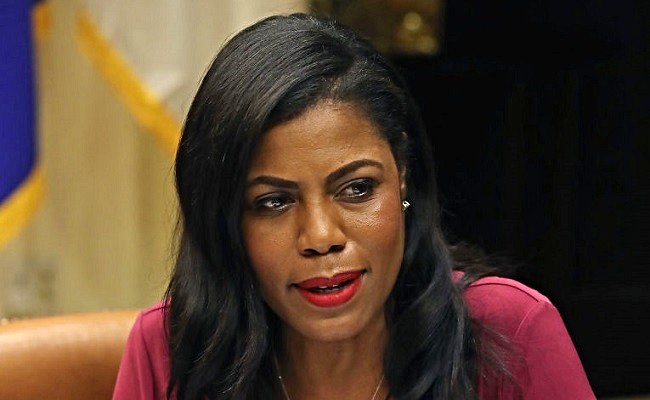 The circumstances surrounding the departure of Omarosa Manigault-Newman from her job from within the Trump administration were murky when the news broke back in December. CNN's April Ryan initially reported that Omarosa had been unceremoniously fired by Chief of Staff John Kelly and escorted off White House property amid vulgar theatrics. Manigault later attempted to spin her so-called "resignation" on Good Morning America, but suffice to say, nobody was really having it.
A new piece by Politico about Kelly's isolation in the wake of the Rob Porter scandal seems to confirm Ryan's reporting of events, however. An anonymous White House official made the case that Kelly didn't want to fire Porter simply because he was good at his job and he "didn't want to deal with it."
In making the point that Kelly seemingly had no problem firing others such as Anthony Scaramucci, as well as terminating the badge access of Corey Lendowski, the following little tidbit was revealed:
And in December, he dismissed the former director of communications for the Office of Public Liaison, Omarosa Manigault, who had been using the White House car service — known as "CARPET" — as an office pickup and drop-off service, something strictly forbidden by the federal government, according to three administration officials.

After Kelly dismissed her, Manigault tried to storm the White House residence to appeal to Trump, according to one of the officials, accidentally tripping an electronic Secret Service wire that monitors entry and egress from the residence.

The White House did not respond to a request for comment about Manigault's departure.
Perhaps this was the last straw for Kelly. Prior to being shown the door, Manigault was banned from the West Wing for taking "surprise" bridal photos — despite the fact that even Sean Spicer didn't know what the heck she was doing there in the first place.
Since being fired, Omarosa has since turned up on Celebrity Big Brother to spill the tea, although given what we know about her time in the White House — exactly how much tea she actually has to spill seems dubious, at best.
(Politico via NY Daily News)