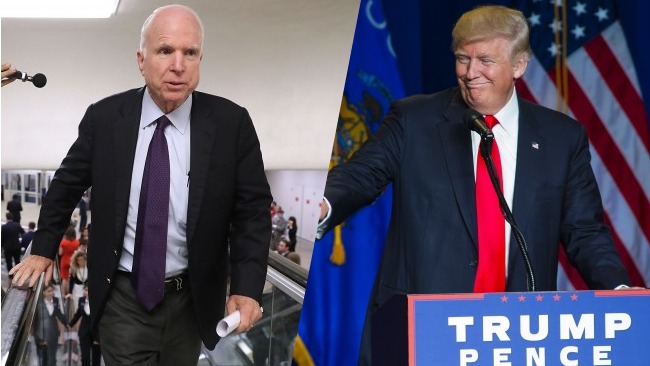 To put it diplomatically, Donald Trump and John McCain haven't exactly been the best of chums. If they were, Trump's dig at McCain's stint as a POW would seem a tad more friendly. For those curious how long McCain's endorsement of Trump was going to last, it seems we've reached our finish line.
In a statement on McCain's website, the Arizona senator says his endorsement of the GOP's presidential candidate is no more. (Presumably his spot on Sarah Palin's Christmas card list is also dunzo.) In light of Trump's current scandal and a growing number of Republicans taking a public stance agains the White House hopeful, this move isn't exactly as dramatic as it might have been in previous weeks, but it does feature another damning critique of the man he formally backed for commander-in-chief.
"I have wanted to support the candidate our party nominated," said McCain. "He was not my choice, but as a past nominee, I thought it was important I respect the fact that Donald Trump won a majority of the delegates by the rules our party set. I thought I owed his supporters that deference."
McCain cites his "well known differences" with Trump over public policy and the comments Trump made regarding "Prisoners of War, the Khan Gold Star family, Judge Curiel and earlier inappropriate comments about women." The former presidential candidate also made a point to call out the controversial remarks Trump made about the exonerated Central Park 5.
"But Donald Trump's behavior this week, concluding with the disclosure of his demeaning comments about women and his boasts about sexual assaults, make it impossible to continue to offer even conditional support for his candidacy," explains McCain. "Cindy, with her strong background in human rights and respect for women fully agrees with me on this."
So does that mean John and Cindy McCain will be voting for the Democratic alternative that is Hillary Clinton? Don't count on it.
"Cindy and I will not vote for Donald Trump. I have never voted for a Democratic presidential candidate and we will not vote for Hillary Clinton," states McCain. "We will write in the name of some good conservative Republican who is qualified to be President."
If you're a member of the GOP backing Trump, there are tons of hopes, dreams and expectations riding on tomorrow night's debate. If you're a member of the GOP that isn't backing Trump? You might prefer a quiet room to yourself for the next few weeks.