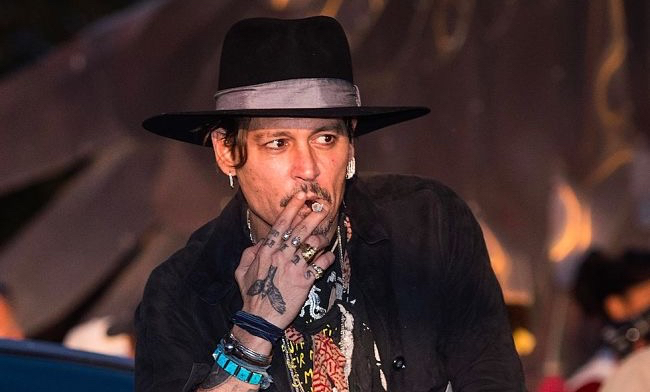 Johnny Depp isn't the box office draw he once was, but he still knows how to draw a crowd. And controversy. While speaking Thursday at the Glastonbury Festival in England, where for some reason his otherwise-forgotten 2004 film The Libertine was screening, the Pirates of the Caribbean star told an audience, "I think Trump needs help. There are a lot of dark places he could go. I'm not insinuating anything… but when was the last time an actor assassinated a president?" Depp, who played Trump in a Funny or Die video last year, was obviously joking about killing POTUS, but the White House wasn't amused.
"The joke is no laughing matter," Kellyanne Conway, counselor to the president, told the Washington Post in a phone interview. "These things are real." Conway called Depp a "nut job" and said his statement was "not a slip of the tongue" but rather a deliberate attempt to spread "vile" ideas that could "easily inflame lunatics who wish to bring harm." (Via)
"President Trump has condemned violence in all forms and it's sad that others like Johnny Depp have not followed his lead," a White House spokesperson also said in a statement. "I hope that some of Mr. Depp's colleagues will speak out against this type of rhetoric as strongly as they would if his comments were directed to a Democrat elected official." Maybe one of Depp's colleagues like Beer for My Horses star Ted Nugent, who, after watching Michael Bay's 13 Hours: The Secret Soldiers of Benghazi, wrote on Facebook that then-President Obama and Hillary Clinton "should be tried for treason & hung." The Milwaukee's Best of rock stars also said in 2012 that if President Obama were reelected, he would "either be dead or in jail by this time next year."
Ted Nugent was invited to the White House by Donald Trump in April.
(Via the Washington Post)