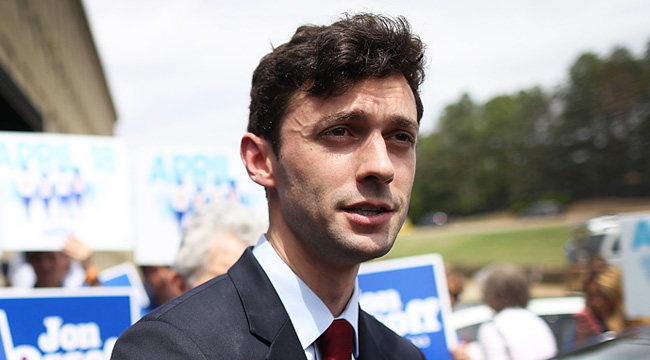 In a traditionally red Congressional district, Democrat Jon Ossoff had the deck stacked against him. The Tuesday night fight for the 6th Congressional district in Georgia even extended all the way up to the president. Yes, Donald Trump railed against Ossoff while labeling him as a socialist, but in the end, there shall be a runoff between Ossoff and leading Republican Karen Handel in June for the seat formerly occupied by now-Health Secretary Tom Price.
What happened? The GOP candidates essentially divvied up their side of the pie and Ossoff ended up with almost exactly the same number of votes as the top five Republicans. At the time that CNN projected a runoff, Ossoff (after hovering around 50% for hours) ended up with 48.6% of the vote. Since he failed to cross the halfway point, Runoff City is the next destination even though Handel only pulled in 18%.
You'd better believe Trump is already crediting himself for the "victory," albeit a moral (not yet an official) one: "Glad to be of help!"
This wasn't just any Congressional seat. In the case that Ossoff — a 30-year-old whippersnapper — would have won, it would have signaled a possible turning tide by the time midterm elections rolled around in 2018. Whatever happened tonight was either destined to cement the current GOP control of Congress or shake Republican faith. As such, folks, including Samuel L. Jackson and his voice, took an interest in this special election. Also, those stolen voting machines may become a bigger issue soon. We'll see.