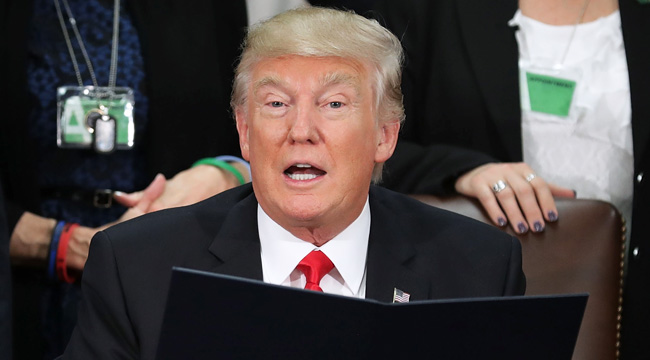 On Monday afternoon, Acting Attorney General Sally Yates dealt a symbolic blow to Trump's immigration ban, which blocked refugees from seven Muslim-Majority countries from entering the Unites States. Trump's plan was engineered by a 31-year-old advisor, Stephen Miller, who holds white supremacist and neo-Nazi ties. And as everyone knows, the resulting refugee detainments have been the subject of enormous protests that President Obama has now expressed support for as the public debate continues.
Yates hails from the former president's administration, although President Trump asked to fill Loretta Lynch's shoes until Jeff Sessions is confirmed by the Senate. She's currently the highest Senate-confirmed official in the Justice Department, and she's ordered her colleagues not to argue in favor of Trump's Muslim ban in court. The New York Times has Yates' statement:
"I am responsible for ensuring that the positions we take in court remain consistent with this institution's solemn obligation to always seek justice and stand for what is right. At present, I am not convinced that the defense of the executive order is consistent with these responsibilities nor am I convinced that the executive order is lawful … For as long as I am the Acting Attorney General, the Department of Justice will not present arguments in defense of the Executive Order, unless and until I become convinced that it is appropriate to do so."
Yates' directive shall certainly be dismissed once Sessions is confirmed as attorney general, but she's performed a curious maneuver. She's effectively turned any Senate confirmation decision of Sessions "into a referendum on the immigration order." Yates has only temporarily halted Trump's executive order (Sessions could be confirmed as early as Tuesday), but she's clearly opened the door to more debate on the issue, possibly from the Senate.
CNN notes that lawyers have filed cases in five states — California, Massachusetts, New York, Virginia, and Washington — to dispute the legality of Trump's ban. Meanwhile, Trump and his team have continued to downplay the number of detainees. The president also tweet-defended his lack of notice for the new travel restrictions by claiming that a one-week warning period would have allowed plenty of "bad dudes" to enter the country.
UPDATE: Trump has fired Yates.
(Via New York Times & CNN)