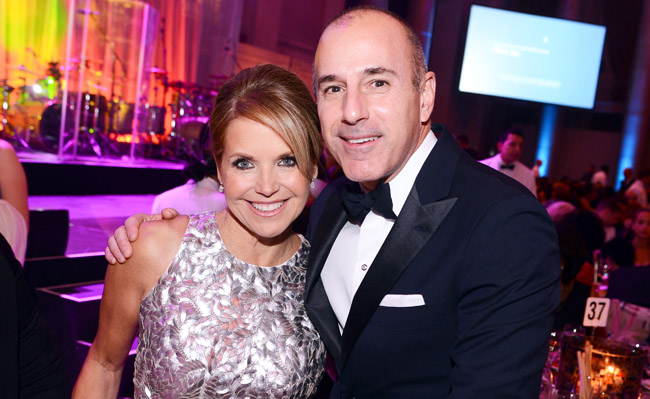 It's been a month and a half since Matt Lauer was fired from Today over allegations of inappropriate sexual workplace behavior, which has since been detailed in disturbing victim accounts. Although it didn't take long for Lauer's former co-host Ann Curry to speak out on the allegations, his longtime co-host of 15 years, Katie Couric, remained silent — writing only in an Instagram comment that she found the news incredibly upsetting and that she would speak when she was ready to.
Now, Couric is finally ready to speak out, giving a statement to People about her old friend. She reiterated her pain at learning the news but stated that his behavior was "completely unacceptable."
"The whole thing has been very painful for me," Couric, 61, tells PEOPLE. "The accounts I've read and heard have been disturbing, distressing and disorienting and it's completely unacceptable that any woman at the Today show experienced this kind of treatment.

Couric also commented on the Watch What Happens Live clip that made the rounds after Lauer's firing, in which she joked to Andy Cohen that Lauer used to pinch her on the butt.
"I had no idea this was going on during my tenure or after I left," she continued. "I think I speak for many of my former colleagues when I say this was not the Matt we knew. Matt was a kind and generous colleague who treated me with respect. In fact, a joke I once made on late-night television was just that, because it was completely contrary to our brother-sister relationship. It's still very upsetting. I really admire the way Savannah [Guthrie] and Hoda [Kotb] and the entire Today show staff have handled a very difficult situation."
Hoda Kotb has since stepped in to fill the co-anchor position left vacant by Lauer. You can view the Watch What Happen Live clip below. Couric was responding to Cohen's question of "what Matt's most annoying habit" was.
(Via People)