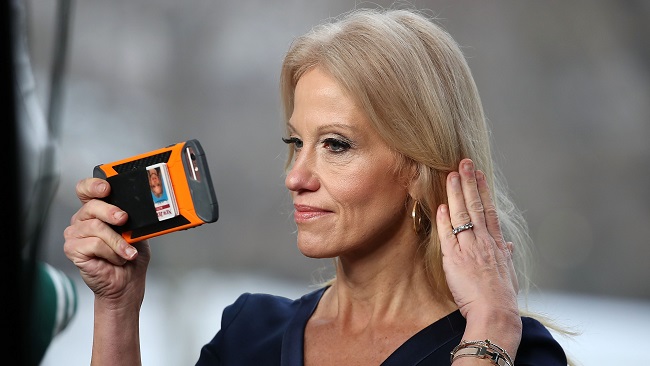 Ever since Kellyanne Conway allegedly misspoke during an interview with Hardball's Chris Matthews, in which she lambasted President Barack Obama and the media for refusing to cover the nonexistent "Bowling Green Massacre," no one has let Donald Trump's presidential counselor off the hook. The Internet reacted brilliantly with memes, jokes, and fake fundraisers for the victims. Yet it seems Conway's troubles are far from over, as new evidence suggests she lied about misspeaking during her MSNBC interview.
According to the New York Times' Jim Rutenberg, Conway's recent media blowout became entangled with the White House's apparent "icing out" of CNN when the cable news network refused to book her despite the administration's supposed "olive branch":
CNN declined to have her as a guest on Sunday — in part because the Trump administration offered her in lieu of Vice President Mike Pence, but also because of what the network told me were "serious questions about her credibility."
The vice president appeared on several Sunday morning news programs, both on broadcast and cable channels, but not on CNN. Yet when Conway was offered instead, they declined due to the negative aura her "honest mistake" about Bowling Green had generated. Especially since, as Rutenberg, Politico's Hadas Gold and countless other journalists have pointed out, the former campaign manager turned White House staffer has increased her attacks against media outlets reporting the so-called "mistake."

What makes the matter all the more intriguing, however, is a new report by Cosmopolitan suggesting Conway — in an unpublished interview conducted days before her Hardball appearance — touted the "Bowling Green Massacre" in a similar manner:
"He did, it's a fact," she said of Obama. "Why did he do that? He did that for exactly the same reasons. He did that because two Iraqi nationals came to this country, joined ISIS, traveled back to the Middle East to get trained and refine their terrorism skills and come back here and were the masterminds behind the Bowling Green massacre of taking innocent soldiers' lives away."
When Cosmopolitan followed up with Conway on Friday, she said "it was a plot to massacre and they were Bowling Green terrorists," adding: "That's what I should have said. I clarified." As for her sourcing on the matter, which reporters have unsuccessfully questioned Conway about since Hardball, the counselor claimed she "[knew] when they were radicalized" because of a briefing she'd received. Otherwise, she offered no other details on the matter.
(Via Cosmopolitan and New York Times)