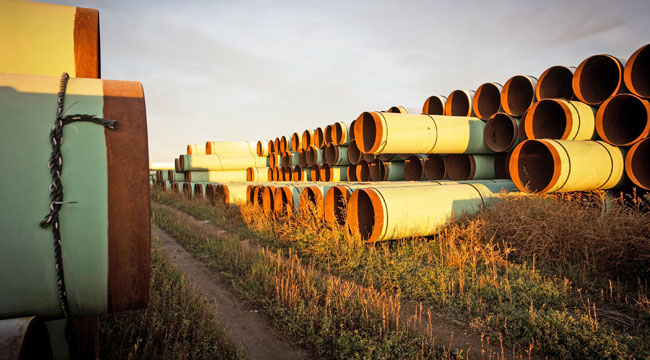 Nearly a year after the Dakota Access pipeline leaked 176,000 gallons of oil near the Standing Rock protest site in Cannon Ball, North Dakota, a similar disaster is unfolding to the south. The Washington Post reports that 210,000 gallons (5,000 barrels) of crude oil spilled from TransCanada's Keystone pipeline in South Dakota on Thursday morning. The timing of the incident is notable, for Nebraska's Public Service Commission shall soon consider a new TransCanada permit for the pipeline system's Keystone XL extension.
The good news, if there is any, is that the spill didn't reach a body of water, which would have amplified the disaster. In addition, Reuters reports that a portion of the pipeline running from Alberta to Oklahoma and Illinois has been closed until further notice, yet the pipeline's southern leg remains unaffected and continues to operate. Local ABC affiliate KSFY relays a statement on TransCanada, which says the spill has been isolated:
TransCanada (TSX, NYSE: TRP) crews safely shut down its Keystone pipeline at approximately 6 a.m. CST (5 a.m. MST) after a drop in pressure was detected in its operating system resulting from an oil leak that is under investigation. The estimated volume of the leak is approximately 5,000 barrels. The section of pipe along a right-of-way approximately 35 miles (56 kilometres) south of the Ludden pump station in Marshall County, South Dakota was completely isolated within 15 minutes and emergency response procedures were activated.
For comparison's sake, the Keystone pipeline experienced a previous leak in April 2016 that, at 16,800 gallons (or 400 barrels), was much smaller in scope. As CNN points out, it took two months to clean up most of the spill, so there's no telling how long the damage from this disaster may last.
The cause of the leak is not yet known, and Nebraska officials are due to announce their decision on the proposed Keystone XL expansion next week.
(Via Washington Post, KSFY, Reuters & CNN)