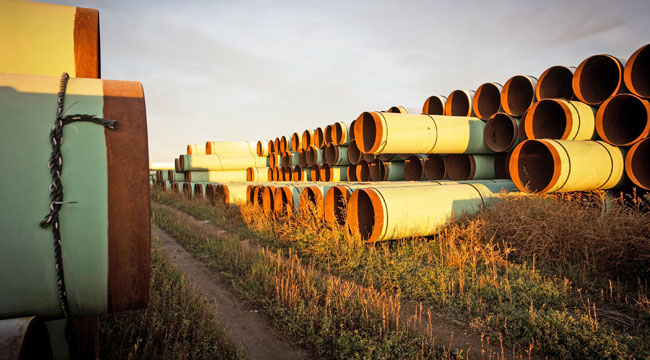 Late last week, a Keystone pipeline leak dumped at least 210,000 gallons of oil (and possibly even more than that) in South Dakota. The cleanup process is expected to take months, and many wondered whether the timing of the disaster would hinder approval of construction for TransCanada's Keystone XL extension, which was proposed to run from Alberta, Canada to southern Nebraska. However, the permit was still approved on Monday by Nebraska.
As such, progress on the XL extension — championed by Republicans and President Trump, who revived the project through an executive order — can now proceed … but not quite as planned. The New York Times notes that the Public Service Commission was hindered by existing Nebraska law that doesn't allow regulators to "consider pipeline safety and spill risks" while granting a permit. Still, the commission only approved the extension for an alternate route that has not yet been finalized, so the process didn't check off every one of TransCanada's desired boxes:
[T]he five-member commission rejected TransCanada's preferred route and voted to approve an alternative route that would move the pipeline further east. The route of the new pipeline, which would carry 830,000 barrels a day of crude, would not cross any part of the state's ecologically delicate Sandhills region.
In other words, there's still plenty of squabbles to be fought by TransCanada to take the XL extension to fruition. Yes, the 9-year fight to clear the final regulatory requirement is over, but the energy company must now secure easements and other agreements from a whole new set of landowners. This could further set construction back for months, even years.
So, it's fair to consider this a partial victory — Nebraska's commission has certainly complicated the process after TransCanada "portrayed the alternative route as unworkable." Now, they'll have to figure out how to make it work, although one can be certain that the Trump administration will count this as a major win for #Jobs.
(Via New York Times & Washington Post)