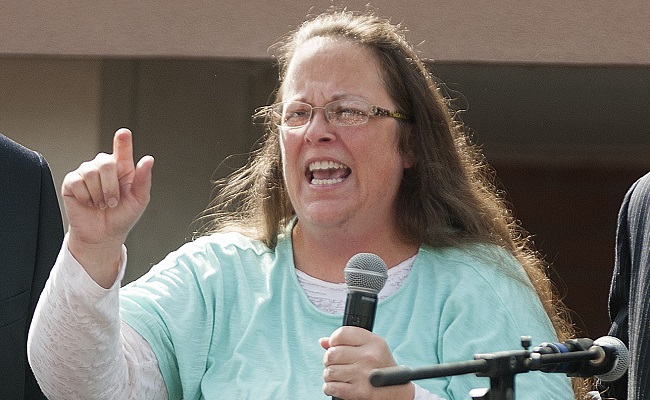 Kim Davis, the county clerk in Kentucky who refused to issue legal marriage licenses to gay couples last year, will attend President Obama's final State of the Union address on Tuesday night. According to unidentified sources at two different Washington, D.C., news outlets, Davis and her attorney will be guests of the conservative Family Research Council.
Both the Washington Examiner and The Hill confirmed the anti-marriage equality and pro-life organization's efforts to get seats for Davis and Mat Staver at the annual event. They also indicated just how significant Davis' attendance at the annual speech is. Not so much as an acknowledgment of the Kentucky clerk's upholding of her religious beliefs in defiance of federal law, per se, but for the specific guests invited by Barack and Michelle Obama.
That's because Jim Obergefell, the plaintiff in the Supreme Court case Obergefell v. Hodges that legalized same-sex marriage in all 50 states, will be one of the 25 or so guests seated in the first lady's guest box. Per a White House press release, Obergefell and the others will "represent the progress we have made since the president first delivered this speech seven years ago." By inviting Davis and her attorney to the State of the Union, however, it seems the FRC wants to counter the president's intended message.
This won't be the first time Davis has visited Washington since becoming a household name. She famously came to the capital to meet with Pope Francis in September.
(Via Washington Examiner and The Hill)