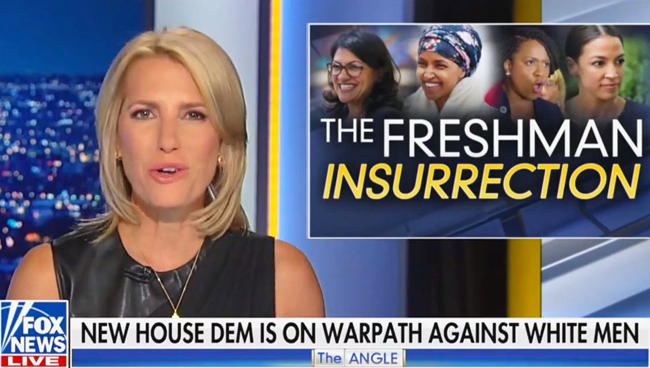 While the so-called "blue wave" of the midterm elections may not have been quite as triumphant as Democrats had hoped, they did result in some history-making outcomes. Congresswoman-elect Alexandria Ocasio-Cortez became the youngest woman ever elected to Congress, while Massachusetts elected the state's first black congresswoman Ayanna Pressley, and Rashida Tlaib and Ilhan Omar became the first Muslim women elected to Congress.
So naturally, Fox News host Laura Ingraham had some fairly disgusting remarks to make about some of the newly elected congresswomen of color in a segment called "Freshman Insurrection" on Tuesday night's The Ingraham Angle. "There are dark, pink clouds gathering on the horizon of this glorious victory," Ingraham started off strong, making condescending finger-quotes as she said the word "glorious."
"The newly elected crop of women on Capitol Hill see things different than Speaker Grand Nan," she continued, offering a cutesy jab at the possible new Speaker of the House, Nancy Pelosi.
Ingraham then turned her attention to the above group photo of the four newly minted congresswomen that Ocasio-Cortez uploaded to Instagram this week. "Nancy Pelosi might have tagged this one #MobSquadHelp," she quipped.
"Well, these women may be the four horsewomen of the apocalypse for the Democratic party if you ask me, because they represent some of the most radical views in Congress," Ingraham elaborated, before turning to a graphic proclaiming "Wacky New Democratic Ideas."
Except … while "wacky" may be debatable, these ideas are not "new," exactly. In fact, other than abolishing ICE (which he only recently pivoted on), this is basically the platform in which Bernie Sanders campaigned for president.
Later, while running through each congresswoman-elect, Ingraham singled out Pressley, whom she accused of being "a leftist on the warpath against white men" who "doesn't "sound like she's going to be singing 'Love Me Tender' to Nancy Pelosi any time soon."
All this, presumably to placate the Fox News home viewing audience into believing that the Democratic party is about to eat itself from the inside out and that these women are going to be the catalyst to make it happen. But perhaps she should take a good long look at her own party (and network), first.
(Via Mediaite)