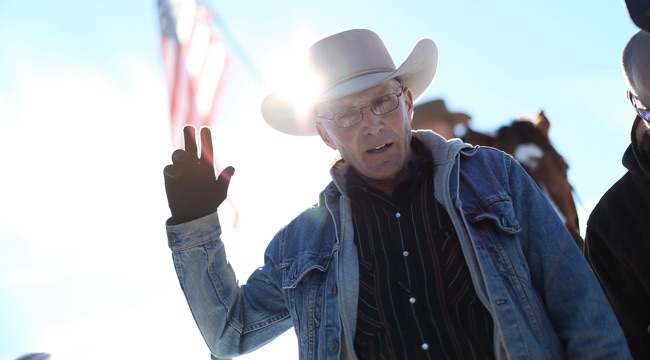 In January 2016, FBI and state police arrested members of the so-called Bundy militia which had illegally occupied the Malheur Wildlife Refuge in Oregon. Robert "LaVoy" Finicum was shot and killed during the arrests, even though eyewitnesses claimed he was surrendering. After a yearlong investigation, an FBI agent has been indicted for his involvement in the incident.
According to Oregon Live, the agent faces charges of making false statements and obstruction of justice. In order to understand the charges, it's necessary to understand how Finicum died.
Members of the Bundy militia, including Finicum, left the wildlife center in multiple vehicles to attend a community meeting in a nearby town. During their commute, the FBI and state police made surprise traffic stops. After speeding away from the traffic stop and trying to avoid a subsequent roadblock, Finicum crashed his pickup truck into a snow bank. Two shots were fired by FBI agents from the hostage rescue unit, one hitting the roof of the truck. After Finicum got out of the truck, either surrendering or reaching inside his jacket (he had a pistol on his person), he was shot three times by state police.
The charges against the FBI agent stem from the shooting's aftermath as none of the agents admitted to firing at Finicum and the state police reporting that rifle casings were found by the are the FBI agents were posted. Since "knowingly and willfully" making any false, fictitious or fraudulent statement or hiding information is a federal crime, one agent is now in trouble. The FBI acknowledged that an agent was under investigation for the shots, and four other agents were under investigation for the coverup later in 2016.
The Bundy Brothers and several of their fellow occupiers were found not guilty for their role in the Oregon standoff, though several were found guilty of conspiracy and damaging government property. Finicum's widow, Jeanette Finicum, also plans to sue Oregon State Police and the FBI for violating her late husband's civil rights while arguing that excessive force and improper police procedures lead to his death.
(via Oregon Live)