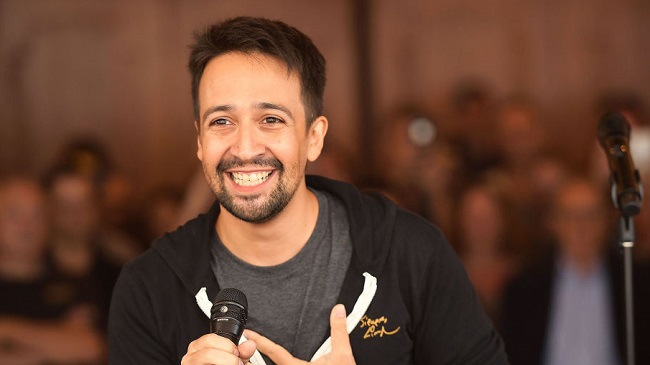 Aside from complaining that, following the devastation wrought by Hurricanes Irma and Maria, Puerto Rico "[wants] everything to be done for them when it should be a community effort," Donald Trump criticized San Juan Mayor Carmen Yulín Cruz. The latter recently made several public pleas for help while lambasting the federal government's slow response on Friday, thereby sending the vacationing president into a golf-fueled Twitter frenzy Saturday morning. Even so, the internet quickly came to Cruz's defense — including Hamilton creator Lin-Manuel Miranda, whose extended family hails from Puerto Rico.
"Put what you got to a greater purpose," the acclaimed musical composer wrote mere minutes before noticing Trump's tirade. "Your rage, your fear, don't let it fester. Make it work for you." The tweet also included a link to the Hispanic Federation's donation page. Yet Miranda's hopeful start to the day was quickly shattered in the string of tweets that followed. "You're going straight to hell, @realDonaldTrump," he wrote. "No long lines for you. Someone will say, 'Right this way, sir.' They'll clear a path."
Miranda specifically took up the charge for defending Cruz, who he insisted "[had] been working 24/7" on the ground in Puerto Rico while Trump "[had] been GOLFING." Even so, the singer-songwriter admitted he "[hated] even quote tweeting his bile" and opted instead to reshare the Hispanic Foundation donations website link instead. Miranda also praised his followers and everyone who had donated, saying they "deserve a leader who shares an OUNCE, a SHRED of the compassion you all have."

If it seems like Miranda has taken the president's comments to heart, that's because the New York-born Broadway star's family originally came to the continental United States from Puerto Rico. As the New York Times notes, he wrote a guest column for The Hollywood Reporter. "Puerto Ricans need supplies and resources just as badly as their fellow Americans in Texas and Florida," Miranda wrote on Tuesday, "and this need is magnified by their geographic isolation from the mainland." He also praised the administration's long-delayed decision to temporarily waive the Jones Act, but remained critical of its initial 10-day duration.
As for Trump, the president eventually returned to Twitter to try and smooth things over. He praised the "amazing job [that was] being done in Puerto Rico" — "[d]espite the Fake News Media in conjunction with the Dems." He also attempted to save face by connecting himself to other Puerto Rican officials, including Governor Ricardo Rossello and Commissioner Jenniffer Gonzalez-Colon.
Even so, the president couldn't go for too long without tweeting renewed attacks against his favorite targets. Cruz, thankfully, was not among them, but the usual suspects were as ever.
(Via New York Times and The Hollywood Reporter)