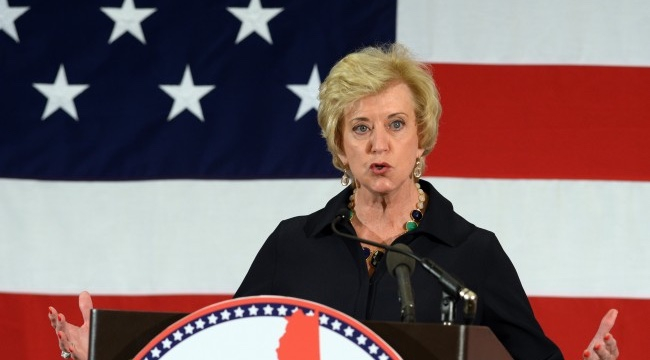 After formally appointing Reince Priebus as White House Chief of Staff, Donald Trump is moving on to other staffing concerns. Namely, his Cabinet members. Now that Chris Christie has been all but removed from the conversation completely when it comes to candidates for the Trump administration, the conversation has turned towards other regional politicians and businesspeople from the Northeastern area of the country. The latest rumor is that Linda McMahon could be the next Secretary of Commerce.
McMahon has had political aspirations in the past, having run for the US Senate and lost twice. She is probably best known from her business activities in the WWE and marriage to Vince McMahon. This election cycle, McMahon was considered a "mega donor" to the Republican Party, continuing her years of heavily investing in the GOP in one way or another. She stepped down from Connecticut's Board of Education due to restrictions on how much members could donate to politics, and spent more than $54 million on one of her campaigns.
After Trump appeared at Wrestlemania 2007, Vince and Linda began donating large amounts of money to the Trump Foundation. All told, the couple have given more than $5 million to the organization since they first crossed paths publicly nine years ago. If Linda was appointed to Trump's cabinet, it would signal the continuation of a friendship that has been solidified with money and political aspirations for the better part of a decade.
(via NBC Connecticut)