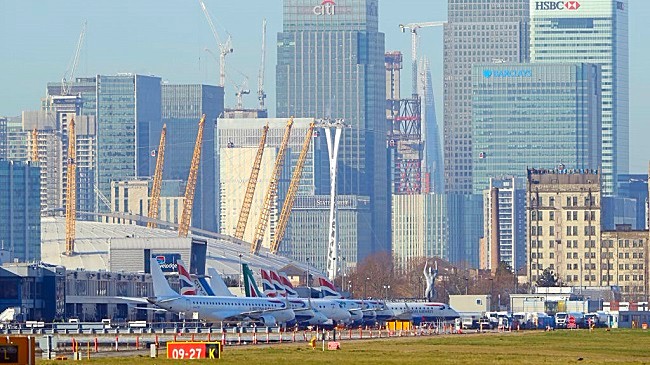 London City Airport was closed for all of Monday following Sunday's discovery of an unexploded World War II-era bomb nearby in the River Thames. According to BBC News, the German-made device weighing around 500 kilograms was discovered near the George V Dock at the Royal Docks, where the international airport is located. An airport spokesperson told the outlet all of Monday's flights were canceled as a result of the discovery, thereby affecting around 261 previously scheduled departures and arrivals, and around 16,000 travelers. The Independent adds this is the second WII device to be found in the city.
The length of time required to remove the unexploded bomb, per a Metropolitan Police statement, depends on the tide: "The timing of removal is dependant on the tides, however, at this stage we estimate that the removal of the device from location will be completed by tomorrow morning." Even so, airport CEO Robert Sinclair noted that they are "working hard to safely remove the device and resolve the situation as quickly as possible." He added, "I recognize this is causing inconvenience for our passengers, and in particular some of our local residents."
In March 2017, a similarly unexploded device was discovered by construction workers in the northwestern part of London. Several schools and homes in the area were immediately evacuated before bomb disposal experts were brought onto the scene to deactivate the bomb and dispose of it.
(Via BBC News and The Independent)