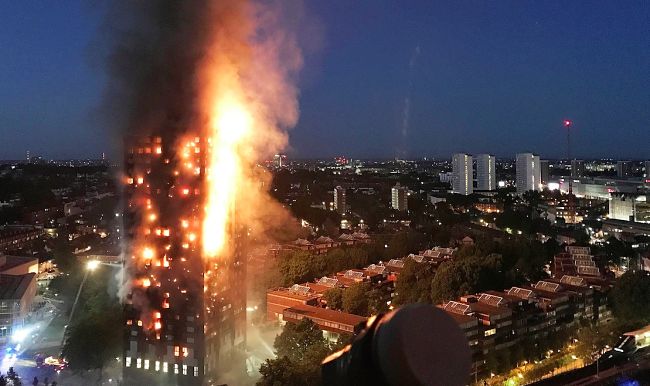 An apartment building in West London caught fire early Wednesday morning, killing at least six people and sending another 74 to the hospital.
A little after 1 a.m. in the North Kensington area of London, the 24-story Grenfell Tower was ablaze. "The cause of the fire was not immediately known," according to the New York Times, and it took more than 200 firefighters to "contain the smoke and to search for survivors." But London Mayor Sadiq Khan cautioned that "a lot" of people are unaccounted for. It's believed up to 600 people were in the building when the fire broke out. The death count "will probably rise," said Met Police Commander Stuart Cundy.
Residents who escaped spoke of others trapped and screaming for help, with some throwing children from windows and others jumping from upper floors. Some were reported to have attempted to use bin bags as makeshift parachutes.

As an investigation into the cause of the fire began, residents reported that fire alarms had not sounded and that they were told to "stay put" in their flats and "put a wet towel down by the door." (Via)
The Grenfell Action Group, which works to "defend and serve the Lancaster West community," regularly wrote about Grenfell Tower's fire safety risks and the "malign governance" of the "non-functioning" organization. (The building recently underwent a $10.9 million redevelopment from property firm Rydon, which, CNN reports, "was to undergo specific improvements to fire safety and ventilation works.")
"It is a truly terrifying thought but the Grenfell Action Group firmly believe that only a catastrophic event will expose the ineptitude and incompetence of our landlord, the KCTMO," the blog wrote in November 2016, "and bring an end to the dangerous living conditions and neglect of health and safety legislation that they inflict upon their tenants and leaseholders." On Wednesday morning, the Action Group posted this update: "Regular readers of this blog will know that we have posted numerous warnings in recent years about the very poor fire safety standards at Grenfell Tower and elsewhere in RBKC. ALL OUR WARNINGS FELL ON DEAF EARS and we predicted that a catastrophe like this was inevitable and just a matter of time."
We'll update with more information as it becomes available.
(Via the New York Times)