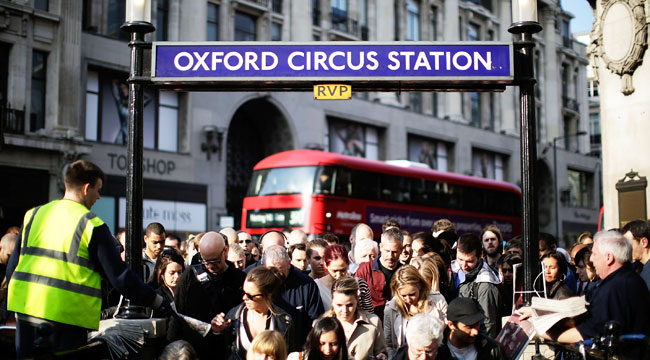 On Black Friday, at least one woman was injured in London by what the BBC describes as a "massive stampede" near the crowded Oxford Circus shopping area. CNN reports that the incident began while police responded to reports of shots fired, although at this time, there have been no gun-related casualties reported or actual gunfire detected. However, CBS News notes that authorities are still treating the matter "as if the incident is terrorist related."
Following initial reports, police closed off both the Oxford Circus and Bond Street tube stations in the areas. These social media clips show the panic that occurred as people fled the scene.
An eyewitness named Greg Owen told the BBC that he was inside the Oxford Circus station when the pandemonium began, and "everyone started screaming and shouting and then a flood of people came up the stairs." Law enforcement quickly warned people to take shelter inside buildings while they searched the area. They have since reopened both stations, according to CNN, while law enforcement presence remains heavy on the scene.
In addition, the Daily Mail has deleted an erroneous report (which appeared to be based upon a two-week old tweet) about a vehicle plowing into pedestrians in the area.