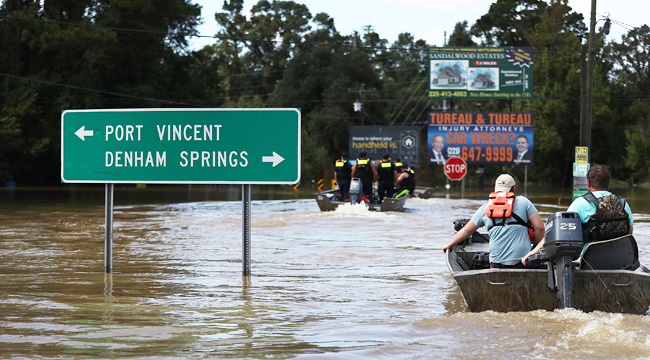 Torrential rainfall in Louisiana has led to historic flooding and Governor John Bel Edwards declaring a state of emergency. Along with many thousands of residents in his state, Edwards was forced to evacuate the Governor's Mansion, and actor Wendell Pierce lost his home to Baton Rouge flooding after his childhood home was destroyed by Hurricane Katrina in 2005.
The collective devastation is simply harrowing to witness in photos, let alone for those in the thick of the floods. Cars are stranded on highways or worse, and rescue workers worked against time in order to save both human and animal lives as the property damage continues to mount. As of Tuesday, 11 people — including a grandmother who drowned while rescuing her grandson — have lost their lives in this natural disaster. In addition, rescuers have saved 30,000 people and 1,000 of their pets. And approximately 40,000 homes have been either destroyed or damaged by the flood waters.
The numbers are equally sobering on a local level. ABC News reports that 80% of Baton Rouge area homes "may be destroyed." Nearby Livingston Parish (where an estimated 75% of homes could be "a total loss") saw 21 inches of rain in one day, which misses the 1962 record by one inch.
Flood recovery will take millions of dollars, and Taylor Swift has already chipped in $1 million. Any little bit helps, and the Red Cross — which is working nonstop to help those who have been displaced by this event — has provided information on how people can donate to Louisiana flood victims. Anyone can also text "LAFLOODS" to 90999, which will result in a $10 donation.
(Via Weather.com, NOLA.com, ABC News & The Red Cross)