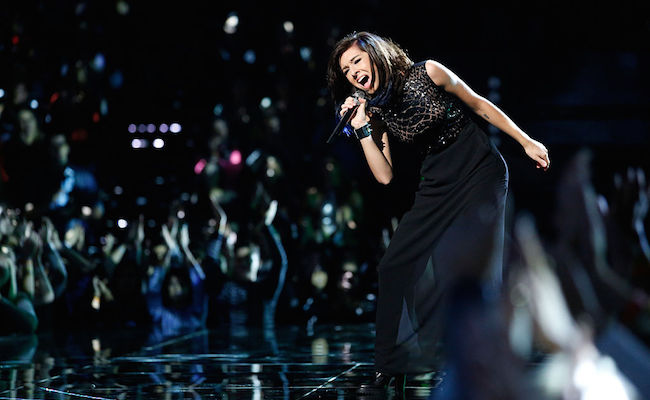 Less than 24 hours after the fatal shooting of The Voice contestant Christina Grimmie, the Orlando Police Department has identified the shooter who intentionally wanted to harm the 22-year-old singer. According to a tweet this afternoon from the Orlando Police Department, the perpetrator was 27-year-old Kevin James Loibl of St. Petersburg, FL.
People reported that Loibl arrived at the Plaza Live with two handguns and a hunting knife. When asked in a press conference earlier today if Grimmie was attacked by a deranged fan, Orlando Police chief John Mina replied, "That would be speculation, but that's what it's looking like."
Loibl approached Grimmie after her performance during a meet and greet. That's when he opened fire on the singer and Grimmie's brother, Marcus, attacked Loibl. Loibl then turned the gun on himself. There were 120 people at the Plaza Live during the incident.
[protected-iframe id="e778ca8eeda9bd0e5b9d5d3bbc2fda92-60970621-27529665″ info="https://www.facebook.com/plugins/video.php?href=https%3A%2F%2Fwww.facebook.com%2Forlandopolicedepartment%2Fvideos%2F10153706114430878%2F&show_text=0&width=560″ width="560″ height="315″ frameborder="0″ scrolling="no"]
The Orlando Police Department will continue in their investigation surrounding Grimmie's death. Mina stated that they will be looking into possible motives and will look into Loibl's phone and computer for further information. There will also be an investigation at the Plaza Live regarding security concerns. According to a Facebook post, all concerts at the Plaza Live have been postponed until further notice.
[protected-iframe id="a03933acedf37d45767249c1074c8dd1-60970621-27529665″ info="https://www.facebook.com/plugins/post.php?href=https%3A%2F%2Fwww.facebook.com%2Fplazaliveorlando%2Fposts%2F10153705470621274&width=500″ width="500″ height="363″ frameborder="0″ scrolling="no"]
(via People)