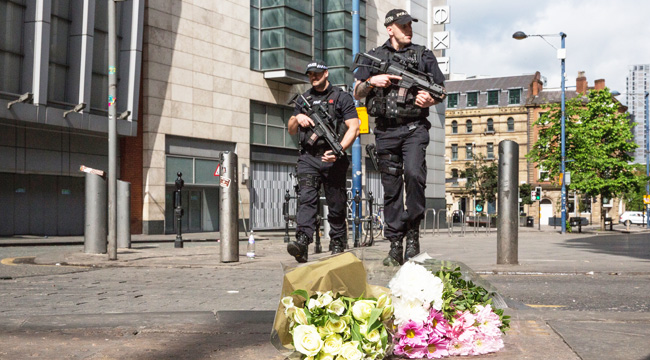 Investigators are working to piece together clues following the deadly explosion at an Ariana Grande concert in Manchester, England. The current death toll stands at 22 with at least 59 people injured, and British police made the quick decision to investigate this as a terror attack, which has been supported by additional information that has been revealed. President Trump has labeled those who are responsible as "evil losers," and this morning, police know more about who targeted an arena full of teenagers.
As of Tuesday morning, ISIS has claimed responsibility for the attack (with their standard "soldier of the caliphate" language), but the group has not delivered any evidence to prove their involvement. Police say that one man (who died on site, likely as a suicide bomber, and has been identified by investigators as 22-year-old Salman Abedi) was responsible for the attack and largely acted alone. However, law enforcement has arrested another person of interest (a 23-year-old man in South Manchester) in connection with the incident.
Speaking about the late-night attack, Queen Elizabeth expressed "admiration for the way the people of Manchester have responded" while opening their homes to victims and families. And Prime Minister Theresa May delivered a lengthy statement outside her Downing Street offices. She emphasized what is believed to be the solitary nature of the attacker and further condemned what appears to have been a purposeful targeting of young victims:
"This was among the worst terrorist incidents we have ever experienced in the United Kingdom … All acts of terrorism are cowardly attacks on innocent people but this attack stands out for its appalling, sickening cowardice, deliberately targeting innocent, defenseless children and young people who should have been enjoying one of the most memorable nights of their lives … We struggle to comprehend the warped and twisted mind that sees a room packed with young children not as a scene to cherish but as an opportunity for carnage."
You can watch May's speech in its entirety below.