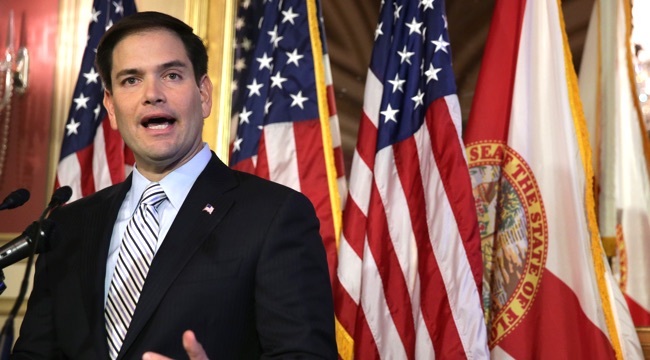 For a Sunday in the middle of peak primary season, this has been a relatively calm day despite Ted Cruz besting Donald Trump in two more states on Super Saturday. As for Marco Rubio, he won no new states, and Twitter wasn't kind to him with the "You'll always have Minnesota" brand of remarks. Folks wondered if Rubio could hold on for another ten days until the Florida primary, which will be his own personal judgment day. Not only is the state a winner-takes-all affair, but it's Rubio's home state. If he can't hang in Florida, there's really no hope. Perhaps he'll reel up and try again in eight years, which is a tactic that's working well for Hillary Clinton.
However, the ballad of "Little Marco" has not yet come to a conclusive end. He's managed to score big in the Puerto Rico primary. Not only did he capture a rare win, but CNN projects Rubio will pass the 50% threshold, which will send all 23 of the delegates his way. Rubio's staffers (including Senior Advisor Alex Burgos) are celebrating with a special theme tonight.
This victory must taste delicious, especially after Trump spent Saturday evening calling for Rubio to drop out, but it's Trump's comments about Cruz that really raised eyebrows:
"I mean I think Marco Rubio had a very, very bad night, and personally, I'd call for him to drop out of the race. I think it's time now that he drop out of the race. I really think so. I think it's probably time, you know … I would love to be able to take on Ted one-on-one. That would be so much fun, because Ted can't win New York, he can't win New Jersey, he can't win Pennsylvania, he can't win California. I want Ted one-on-one, okay?"
Trump wants "Lyin' Ted" allll to himself, okay? No wonder Rubio's tossing the word "vulgar" around. This campaign is getting dirty.
Meanwhile, Cruz added another win by taking the Maine GOP caucus. Cruz nabbed an estimated 45% of the vote while Trump (32%), Kasich (12%), and Rubio (8%) followed. [On the Democrat side, Bernie Sanders (64%) crushed Hillary Clinton (35%).] After Cruz's smattering of Super Tuesday and Super Saturday wins, he's starting to catch up to Trump. We'll have more election coverage on this upcoming Tuesday when Hawaii, Idaho, Michigan, and Mississippi all make their primary selections.